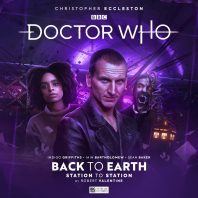 Released May 2022
SOME SPOILERS FOLLOW
With the reintroduction of Doctor Who to screens in 2005, the stories of the Ninth Doctor put an emphasis on humanity and all of its many facets in every walk of life. Following the resoundingly successful reintroduction of Christopher Ecclestion in the titular role in 2021, Big Finish begins the second series of The Ninth Doctor Adventures with Back to Earth as this scarred Doctor continues to discover and remember that no single person is unimportant.
Although these continuing adventures do somewhat take away from the importance of Rose being the Ninth Doctor's first companion, 'Station to Station' by Robert Valentine continues the tremendous success that this range has had in developing singular individuals to act as a companion of sorts for individual stories. Amidst the backdrop of a place that has been lost in the cracks of time and filled with souls who are likewise lost and troubled, Saffron Windrose is a brilliantly complex and emotive character through whom the Doctor can indirectly confront his own regrets and losses as well as the detachment that has resulted from it. Indigo Griffiths is magnificent as this woman who has found love but who still yearns for her parents' acceptance and love, and Saffron capably stands toe to toe with the Doctor as he boldly forges ever onward, helping to bring others together to create a unique family of sorts that can depend on and support each of its members as they begin to mount a strategy to combat the menacing Grimminy-Grue that has fed upon regrets and conflicted feelings for so very long.
'Station to Station' very much leans into a fairy tale styling by the time its story ends, but the immensely evocative setting of a dark, abandoned train station populated by ghostly voices creates a stunning backdrop that perfectly parallels the inherent loneliness and desolation of such a locale with certain thoughts of everyone within its confines. There is an ever-present threat of fading into nothingness, and the supporting cast members all do incredibly well to highlight that unyielding fear as well as the genuine optimism and excitement for life after being separated from meaningful existence for so long while still harbouring their own long-standing regrets. Naturally, the success of this atmosphere is also due to the tremendous menace that the Grimminy-Grue presents, and 'Station to Station' wisely keeps this enemy as something of an ever-present but enigmatic background presence that Ian Bartholomew imbues with an incredible amount of power despite the forced rhyming couplets in which this creature speaks. Unfortunately, in keeping with the fairy tale mentality, the story does falter somewhat by becoming overly explicit with this interdimensional thought being's origins and limits, the Time Lord nomenclature detracting from the threat at hand and the Rumpelstiltskin allegory with the power of a name ultimately providing an underwhelming and convenient resolution after such immense character work as the focus for so much of the narrative.
Christopher Eccleston, of course, provides an infectious enthusiasm as the Doctor, and it's clear that his Doctor who is so scarred by recent events has an active need to help others in order to continue on after everything he has seen and done. 'Station to Station' is a surprisingly intimate story given the profound threat at its core, and he is effortlessly able to invoke the Doctor's more human tendencies as he watches and learns from Saffron's own actions and interactions and attempts to connect with those around him. Eccleston and Griffiths share a superb chemistry that easily carries this narrative, and while the Doctor is perhaps a bit too willing to accept that these people will have to die if he defeats this legendary threat, this is very much a story that showcases the very best elements of this incarnation. Again, this does come with an ultimate conclusion that somewhat undermines his pure glee at finally allowing everyone to live in 'The Doctor Dances' on screen, but there is no denying just how powerful the Doctor's emotions and dedication are at all times as Eccleston continues to perfectly embody everything that makes the Ninth Doctor so beloved. 'Station to Station' is not without its flaws, especially as the Grimminy-Grue must by necessity come out of the shadows, but the performances, sound design, atmosphere, and direction are all superb and offer a truly enthralling and introspective beginning to this second series of The Ninth Doctor Adventures.