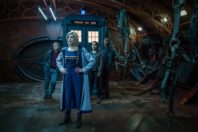 Aired 09 December 2018
SOME SPOILERS FOLLOW
Since the reintroduction of Doctor Who to screens in 2005, series finales have always been bombastic affairs, often putting the fate of the entire universe at stake and marking the departures of many core characters in the process, whether by force or more amiable circumstances. Just as this series has pulled the reigns on the frantic pacing that so often pervaded the Russell T Davies and Steven Moffat eras to focus more on intimate settings and deliberate character development, the lengthily-titled 'The Battle of Ranskoor Av Kolos' as the first finale of Chris Chibnall's tenure as showrunner unsurprisingly tells a tale more restricted in scope despite an interplanetary threat that nonetheless carries very real weight for the Doctor as she must confront the unintended repercussions of her past actions.
Strangely, though 'The Battle of Ranskoor Av Kolos' is a perfectly serviceable episode that again captures the more personal dynamic this series has been striving to achieve, it's also a frustrating one that leaves more unexplained than should ever be the case, especially at the end of a journey that circles back to its beginning with Tzim-Sha from 'The Woman Who Fell to Earth' again the antagonist. Fortunately, the initial setup work highlighting the two-person Ux race described as faith-driven dimensional engineers is superb and provides a fascinating hook as their powers are shown and as a being they take to be their creator suddenly appears after so many generations of waiting for a sign. Flashing forward precisely 3,407 years, the Doctor picks up nine concurrent distress calls from this world that disturbs mental faculties and memories which more or less serves simply to introduce marooned Commander Paltraki who cannot remember what has happened to cause the vast devastation around him.
Upon hearing that they are in the presence of the being who killed Grace once again, Graham all too understandably allows his simmering rage and resentment to get the best of him as he matter-of-factly states to the Doctor that he will kill Tzim-Sha if given the opportunity, fully cognizant of the fact that the Doctor will not allow him to continue to travel with her if he follows through with his threat. The chemistry between Jodie Whittaker and Bradley Walsh is superb in this tense moment, and Graham's passionate search for revenge while Ryan tries to save him from falling down that dark hole is undeniably a strong dramatic storyline that emphasizes where these characters are both internally and among each other even if Graham's ultimate decision to not kill his foe and to instead place him in permanent stasis comes far too easily with no discussion of the ethical implications of this chosen action.
Truly, it's the episode's inability to offer a deeper exploration of its characters and ideas that precludes it from making that jump from good to great. Thus, while the Doctor utilizing the TARDIS and combined resources of the different aliens around her to put right Tzim-Sha's own plan of revenge that involves taking planets that have wronged him out of time and space and trapping them within individual crystals is impressive in its scope, it never amounts to more than technobabble with impressive visuals. Likewise, with Tzim-Sha posing as the god that the Ux have awaited for so long, there's a missed opportunity for genuinely engaging drama to explore not only them finding God but also just how destroying rather than creating under false pretenses for over three millennia has truly affected them now that their reality has been shattered. There are so many profound stories and allegories that could have easily flown from this setup, but continuing to shift focus to Tzim-Sha robs the story of that opportunity without taking the time for the Doctor to wrestle with the fact that all of the resultant genocides are due to her own previous actions.
As has often been the case this year, Yaz is severely underused, and the buildup surrounding the mental torture that this planet can inflict is unfortunately all bluster as nothing more than headaches manifest when the Doctor and Yaz must take their neural modulators off to stop Tzim-Sha's latest attack on Earth. Yet despite the many gaps and shortcuts in the plot, 'The Battle of Ranskoor Av Kolos' is still a visually impressive and very enjoyable affair that succeeds most in the smaller moments that play to Chibnall's greatest strengths, with even the Doctor not immune to being called out for her apparent hypocrisy regarding weaponry and violence. And although this is neither a truly intimate story like those that pervaded this series earlier on nor a sprawling and complex epic like was more commonplace in earlier years, it's an intriguing hybrid that shows plenty of promise but that remains a bit too rough around the edges to provide a more enduring and impactful experience.