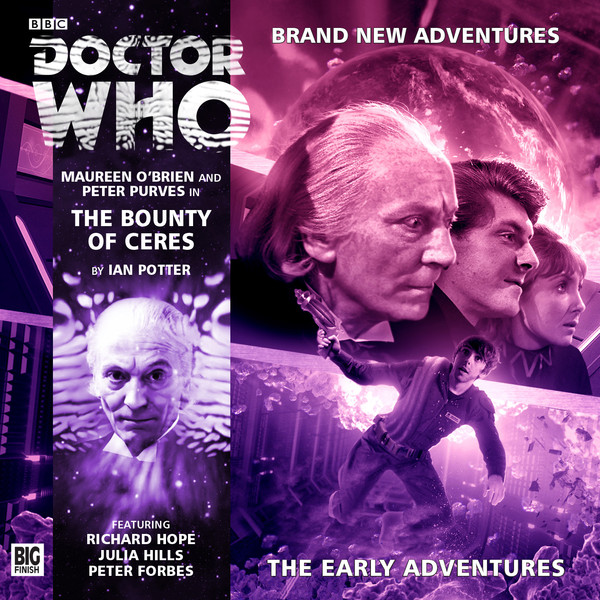 Released November 2014
The third release of The Early Adventures reunites Maureen O'Brien's Vicky with Peter Purves's Steven as the First Doctor- voiced by Purves in this release- and they arrive on a mining facility on the dwarf planet Ceres between Mars and Jupiter. This trio only had three televised outings on television and, despite the increased number of stories offered from other media over the years, there is still a lot of unexplored potential regarding the relationships between these characters. Writer Ian Potter takes advantage of the fact that both of these companions hail from the future, allowing them to offer a unique perspective on the events that- for them- take place in their past.
Set in the twenty-first century, this tale very much resonates with present events and how things may play out in the near future. With long-term space travel and exposure very much a hotbed of research as Earth's natural resources continue to diminish, 'The Bounty of Ceres' makes use of these events and it is quite clear that space travel is still a fairly new concept in practice since the technology involved on Ceres is far from flawless. The tension that the crew of the facility feels knowing that there is nothing outside their walls and no help if anything goes wrong is ably brought across and it truly helps to create an air or unease and tension throughout the story.
Even though there are also many concepts that have been used in a countless number of science fiction stories, a rogue computer and malfunctioning service robots the most abundantly used, Potter does a good job of never letting the plot become too predictable, leading characters and the listeners to expect one thing but delivering something else equally satisfying on many occasions. There is a strange moment where a character suggests something that he knows doesn't make sense, but otherwise the plot flows very logically and at a decent clip from beginning to end.
Just as William Russell put full energy and effort into his portrayal of the Doctor during the climax in 'The Doctor's Tale,' Peter Purves also masterfully brings out the best of William Hartnell as his Doctor ultimately confronts the barely-comprehensible evil force that has been driving events. In fact, Purves proves adept at quickly switching between Steven- whom he effortlessly reprises as he recognizes some of the technology used and helps explain events- as well as the Doctor and the narrator. Maureen O'Brien, able to focus solely on bringing Vicki to life in this release, does so amazingly well, and she is afforded some nice character moments that fit in perfectly with her more innocent and kind-hearted nature. Considering how few stories she and Purves did together and how long it's been since they've worked together, they both mesh instantly and deliver a wonderful chemistry and sense of friendship.
Once again, the supporting cast is quite good as well in this smaller-scale story. Julia Hill lends an air of sympathy to her base commander Quereshi whose motivations for being on Ceres are solely to help her family, and Richard Hope and Peter Forbes are quite enjoyable as they portray different believable reactions to being in their claustrophobic situation. Additionally, the direction is superb and the tense nature of being so isolated and confined is brought out beautifully. The very occasional use of narration and sound effects that genuinely sound like products of the 1960s help to elevate the scenes even further, and director Lisa Bowerman manages to bring everything together very well to deliver a very engaging experience.
'The Bounty of Ceres' is another definite success for this new range, the regulars perfectly recapturing their roles and the script and direction perfectly evoking the feel of the Hartnell era of the programme. With some nice twists that keep the story from becoming too predictable along the way, this is a fine example of how to bring the past into the present while dealing with the future.