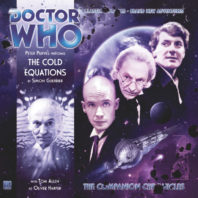 Released June 2011
Following a thrilling introduction to the captivating character of Oliver Harper who was on the run for a crime he dared not admit in 'The Perpetual Bond,' writer Simon Guerrier now takes his new trio of adventurers far into the future when Earth is a ruin and nothing more than an intergalactic scrapyard in 'The Cold Equations.' As time runs out and Steven and Oliver face certain death, pasts and secrets must be confronted and fully revealed.
The beauty of The Companion Chronicles is that these stories allow further exploration of classic characters both in a classic and modern context to further develop the subtle nuances that fuel any person and relationship. Steven is hardly the only companion in the classic run with a profession that hardly received a second mention let alone a featured purpose, but in this stark and evocative environment as Steven and Oliver are trapped upon a remnant of a satellite with air running out, it's Steven the astronaut who brilliantly and shrewdly talks the audience through how his intense training will allow him the opportunity to overcome seemingly insurmountable odds. In all honesty, a recitation about the needed components to calculate a flight trajectory has no reason to be so thrilling, but the incredible stakes, the heartbreaking reactions of Steven's companions when they believe he has failed, and Steven's utter conviction throughout make this sequence one of the most palpable and engrossing Big Finish has ever produced. Indeed, Steven's inner strength is featured quite prominently throughout as he faces so much torture in so many forms, and this man from the height of the space age trying to bring his self-assuredness and knowledge into this dark age is quite possible Steven's finest hour in any medium.
Of course, the inevitability of impending death means that Oliver has no reason not to reveal his purported crime when Steven presses him, and the fact that Steven is able to laugh at the absurdity of Oliver loving another man being considered a crime is a brilliant bridging of the present and the 1960s that again showcases how times have changed and how revisiting a classic character from the future in the modern context only makes him more relatable. Even hinting at this relationship during the original First Doctor run would have been all but unheard of, and it certainly would not have been so openly accepted, but making it so inconsequential to Steven and the Doctor despite being of life and death importance to Oliver who saw no option but to run farther than anyone has ever run is a masterstroke that both Peter Purves and Tom Allen realise perfectly. That an exile who so believes he is wrong can be so openly accepted aboard the TARDIS because of more progressive and natural beliefs underscores the inherent optimism that Doctor Who has always had at its core, and the openness now shared among all three travelers as they continue their journeys together and assuredly head to confront whatever illicit action has landed them in historic databanks has already redefined and refined their interpersonal relationships staggeringly effectively.
Supported by strong direction and fitting sound design that emphasise the bleakness of this environment and the plight of the three leads, Peter Purves gives possibly his most commanding and evocative performance as Steven yet. With a tense first episode that brilliantly sets up and segues into a monumental and gripping second, 'The Cold Equations' achieves everything The Companion Chronicles range sets out to do and more, giving layered and realistic development to characters old and new with a story that perfectly spans the passage of time in more than one regard.