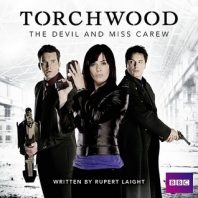 Aired 11 July 2011
SOME SPOILERS FOLLOW
Broadcasting on Radio 4 the week after Torchwood's fourth televised series, Miracle Day, began airing on Starz but set prior to the events of Children of Earth, 'The Devil and Miss Carew' by Rupert Laight is the first of three audio stories under the heading of The Lost Stories.
When Rhys's elderly Uncle Bryn suffers a heart attack and passes away while listening to the shipping forecast on the radio, it seems like any other unfortunate but routine death at Ivyday Nursing Home. Gwen becomes suspicious of another resident when they go to collect his items, and working through inexplicable power cuts spreading across the country, her investigation leads her to a surprisingly spry octogenarian who has gone back to run the computer firm she once worked at, all despite being diagnosed with terminal heart disease. The title makes no attempt to hide the fact that this is a story featuring a deal with a devilish figure, and Fitzroy who hides in radio broadcasts to find the infirmed who are so close to death is seeking to gain a foothold on Earth in return for the extended life and good health he imbues on selected others. While this is a fairly generic storyline, it does allow for Juliet Mills to give a genuine and open-hearted performance as a woman who has been given a second chance and who intends to fulfill the obligations that come with it after losing all freedom and staring death in the face following her diagnosis. It is interesting that these Torchwood audios should choose to feature a storyline with someone comfortable returning humanity to an earlier age via an alien power given that 'Golden Age' featured a similar element even if the power in charge was so radically different, but the powerful motifs of life changing with age and of the fear of facing death and what any individual may do in certain circumstances to stave it off are nonetheless effective and sustainable once more.
A disembodied voice on the radio is the perfect villain for the audio medium, and Martin Jarvis gives a suitably unassuming yet imposing performance to make Fitzroy a credible threat. As this is set before Children of Earth, Rhys asking Gwen if he can become a full-fledged member of Torchwood is all the more poignant given the harrowing events they will come to witness together, and Kai Owen and Eve Myles are once again brilliant together as this story that begins on such a personal and intimate note becomes so grandiose in scale. The patterns following the blackouts do make for a fairly convenient means of discovering and tracking Fitzroy in the short time allotted, but even though Gwen is most featured, each member of Torchwood is given an opportunity to show his or her individual strengths and personality. It is fair to say that Jack doesn't quite sound like his normal self given what at times is an oddly pitched delivery, but it does not detract from the overall experience, and John Barrowman and Gareth David-Lloyd recapture their chemistry easily in a limited time to remind listeners of just how much the 456 would come to change everything for this team.
'The Devil and Miss Carew' is straightforward and hardly creates any sort of lasting impact, but it's a simple and enjoyable tale filled with great character moments and generally strong performances that dips back into the earlier days of Torchwood to good effect.