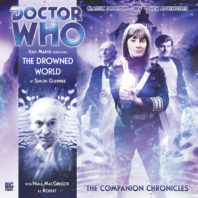 Released July 2009
Simon Guerrier's 'Home Truths' was unequivocally one of the standout successes of the third series of The Companion Chronicles, giving Sara Kingdom life once again in a most unexpected manner and definitively proving just how exciting a framing narrative could be. Unsurprisingly, then, the fourth series opens up with a sequel to that instant classic with 'The Drowned World' to simultaneously reveal an unseen First Doctor adventure and continue the tale of the most mysterious house that has the ability to grant the wishes of those within it.
Strangely for this range but wholly fittingly for this story, a good deal of the running time is spent in the present as details about this futuristic world struggling with something akin to the Dark Ages while tethered to ancient technology slowly become known. There is a debate about whether technology of superstition will see society through to the future, and there are understandably those who want to destroy the house simply because they do not understand it. Niall MacGregor made an instant impact as the sympathetic and curious Robert in 'Home Truths,' and he continues to wonderfully flesh out the character who here finds himself conflicted between what he knows about Sara's echo and what his official responsibility entails. Naturally, nothing is quite as straightforward as Robert would like, and when his attempts to record Sara to explain her to his Elders fail in spectacular fashion he proves that he is not immune to more dangerous thoughts stemming from embarrassment, helping develop an immense cliffhanger that allows for a significant passage of time and Robert to once more seek out the type of help that only Sara's unique abilities can provide. It would have been easy for Robert to appear selfish and inconsiderate, but MacGregor's emotional tones and measured conversations with Jean Marsh ensure that his motivations are always explained and developed to maintain a degree of empathy and sympathy leading up to the immense choice he faces as the story reaches its end.
Naturally, Marsh gives another great performance that captures both the youthful vigor of Sara and the weightier tones of morality and deeper understanding that her current echo provides. She knows exactly what kind of wishes the Elders would want her to grant if they were to visit her, and she plays upon the desires and fears swirling within Robert expertly. Unfortunately, as thrilling as these sequences are, the actual chronicle featuring the Doctor can't quite manage to capture the same level of intrigue, and the decision to have MacGregor narrate part of Sara's earlier story falls somewhat flat. Perhaps because there simply isn't adequate time for the supporting characters to fully develop, the traditionally strong elements of cavalier miners and a dangerous creature in the waters around them can't quite reach their full potential. As a result, there is a reliance on clichés to progress the story, and it's instead the visuals, atmosphere, and immense characterisation of Sara that elevate this portion above strictly average fare.
There would have been no reason prior to 'Home Truths' for anyone to expect the return of Jean Marsh as Sara Kingdom, but Guerrier has twice proven how incredibly ingenious and successful this idea can be, especially when bolstered by such an imaginative framing device. With the narration and conversation flowing effortlessly with little descriptive interjection, 'The Drowned World' is another powerful example of what The Companion Chronicles and the proven variability of its format can achieve. The actual sequence featuring the Doctor and Steven may not quite match the fascinating situation of Sara in the present, but the steady direction and strong performances that subtly amplify the uneasy tension in both time periods nonetheless make this another must-listen and expertly set in motion events for a third installment.