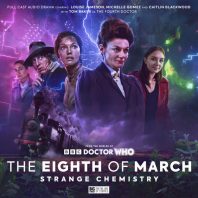 Released March 2023
SOME SPOILERS FOLLOW
To once more commemorate International Women's Day, Big Finish has released Strange Chemistry, the third in its The Eighth of March collection, to highlight just some of the many women in all capacities who have contributed to the continuing success of Doctor Who and all related series within the audio medium.
The immensely talented Louise Jameson, best known for her role of Fourth Doctor companion Leela who has also found immense success as a director for Big Finish, pens the first serial of this collection, 'A Ghost of Alchemy.' Missing by a year his intended target date of the ratification of the Nineteenth Amendment that guaranteed women the right to vote in the United States of America, the Doctor seizes the opportunity of instead landing in 1921 New York to introduce Leela to Marie Curie who is visiting the US to be honoured for her inspiring and ground-breaking work. With a continued cough providing a subtle reminder of Curie's ultimate fate as a result of her experimentation with and exposure to radiation as she continues her search for a cure to cancer, Holly Jackson Walters expertly gives voice to this humble but impassioned woman whose vision unquestionably changed the world with both obvious benefits and unforeseen consequences. However, her quest for such an important cure is anything but unrivaled, and the Doctor and Leela soon find themselves challenged to keep her safe on her journey across the country.
Though just one of the many dangerous figures Marie confronts, Mr Browman possess a true intellect and unquestioned determination, and while his steadfast belief that he could outperform Marie were he afforded the same breaks he believes she has received is an intriguing and understandable source of motivation, his character is mired in a deeply-rooted sexist outlook on life that is displayed far too overtly throughout the script. There is absolutely no question that sexism was a pervasive public force during those times (and one that sadly has not yet been completely eradicated from public consciousness despite obvious progress), but when looking to highlight the strength of female characters, using such an overtly flawed male individual as a benchmark significantly weakens the comparison and detracts from the overall affair. Nicholas Farrell plays the role with conviction, but more subtlety to present him as something more akin to an emotional or social equal could have elevated everyone around him all the more successfully. Nonetheless, in a story that reaches all the way to the White House with appearances from the well-intentioned President Warren G Harding and powerful First Lady Florence, Jameson intertwines her many narrative threads well with a strong sense of pace that keeps its focus on character development and the importance of even a small quantity of radon at all times. Susan Penhaligon's accent as the First Lady is at times a bit overbearing, but she and Harry Myers aptly flesh out the generous powers and motivations of the White House at this time while ensuring that their characters remain genuine people with genuine emotions. Of course, Jameson likewise has an incredible grasp on the characters of the Fourth Doctor and Leela as well after being immersed in this companionship for decades, and the relationship and trust between the two has rarely been on better display as Leela continues to broaden her horizons while staying very true to her own convictions. Perhaps surprisingly for a story in a set centred around women, the Doctor is very much front and centre alongside Leela throughout, and Tom Baker and Jameson absolutely excel in once more capturing the essence of a Fourth Doctor saga given their incredible energy and conviction. 'A Ghost of Alchemy' doesn't necessarily innovate too much and- for better or for worse- bombastically brings sexism out into the open, but it respectfully handles Marie Curie and expertly highlights the myriad strengths of its female characters in any walk of life.
The more unique of the two stories in Strange Chemistry is 'Fairies at the Bottom of the Garden' by Karissa Hamilton-Bannis that features Caitlin Blackwood reprising her role as a young Amelia Pond now in her teenage years. Amelia is a girl who has been told for years through counseling that her Raggedy Man was a distortion of a childhood memory at best, but when she is sent to a counselor once again after another fight at school, she is suddenly confronted with the prospect that her memories may have been correct all along. In a most intriguing crossing over of eras, this counselor is none other than Missy who knows all about the Doctor's former companion and who is looking to use her in order to escape Earth. In Blackwood's first role for Big Finish, she confidently steps into the shoes of a troubled Amy trying to traverse the emotions that come with being a teenager, with bullies at school, and with something of an unsteady home environment in which she hardly accepts orders from her aunt's boyfriend while also managing to capture the self-confidence that typically defined Amy no matter the circumstances. She also shares a great chemistry with Michelle Gomez who, of course, has made Missy an iconic character in her own right. Missy is a bit more subdued here than is typical as she tries to steer events to her advantage while trying to play on Amy's emotions, but her scheme is an audacious one centring around the fairies in Amy's garden that- like so many other aspects- seem to have a connection to stories in her childhood books. Of course, because of the time needed to establish where Amy is in her life as well as the characters who are causing her internal and external conflict, there isn't quite as much time for these fairy creatures or for the Missy angle to develop as much as might be expected, meaning that there is something of a rushed and somewhat unfilled feeling as events turn against Missy. Laying the groundwork of Amy's life is absolutely essential since this is an unexplored time for the character, and it offers plenty of fascinating insights into her development before the Doctor again crossed paths with her, but it does come at a cost as the story rushes to conclude. Nonetheless, Amy's fairies are fascinating, and Hamilton-Bannis in her Big Finish debut with assuredly more scripts to follow proves to have an incredible imagination and a firm grasp on highlighting characterization which Helen Goldwyn's steady direction strongly accentuates. Again, this is not the most ambitious script nor the most audacious Missy scheme, but it expertly brings together two beloved characters in the most unexpected fashion to deliver a unique and ultimately satisfying outing that will hopefully serve as a precursor to more Amy Pond stories for Big Finish.