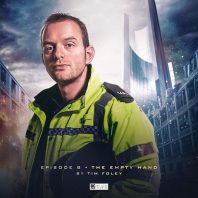 Released October 2017
SOME SPOILERS FOLLOW
The middle third of Aliens Among Us comes to a close with Tim Foley's 'The Empty Hand' that proves that even the steadfastly moral and optimistic Sergeant Andy Davidson is not immune to the increasingly dark shades of humanity pervading the streets of Cardiff. When he is seen to shoot an innocent refugee at point-blank range, an upsurge in terrorist attacks and protests ensues, and Torchwood as it stands now might not withstand the fallout.
As Andy slowly comes to accept what he has done with no discernible alien activity or technological trickery to blame, Tom Price does an immense job balancing the immensely forcible feelings and actions of hatred with a profound regret and horror when he realises what he has done and the pain he has caused not only for those associated with the refugee but for the city and its law and order as a whole. Indeed, Andy's explosive scene with an innocent delivery man is shockingly powerful and proves that even the most virtuous hold darker thoughts on some level. Aliens Among Us has certainly not shied away from topical issues to this point, and Foley expertly brings to the forefront concerns about refugees' acceptance and police brutality within today's society. Although the revelation that Andy has been subjected to an external influence will likely not come as a surprise to anyone, the fact that he must still live with the consequences of his actions without a convenient reset or memory erasure gives 'The Empty Hand' a lasting resonance, and exposing that another officer subjected to the same influence as Andy murdered a refugee of his own accord before the experiment could get underway proves the severity of the racial bias and concerns saturating Cardiff at all levels.
Wisely, Foley takes no shortcuts with this weighty material and ensures that everyone involved has time to digest, react to, and try to understand what is going on with their colleague whom they have come to know and trust implicitly. These are, of course, topics that cannot be fully addressed and resolved in one episode alone, but tying a fearsome technology and its harrowing effects on bad people and good people alike into Ro-Jedda's long-term plan for the city works to immense effect and continues to develop the narrative themes of the series as a whole. As engaging as the mystery behind Andy's turn is, however, the burgeoning mystery behind what Jack has been up to recently begins to take precedence as the story progresses, suggesting that he is tired of leading Torchwood as it is and that he has been pursuing his own agenda that has taken him into the circles of terrorists and protesters alike with an unknown endgame. Torchwood has always been a series that thrives on interpersonal conflict, and a major shakeup looks to be in the works as a very familiar face from the organisation's past appears to assert control over a fraying group. Although everyone is superb in these bombastic final moments, Barrowman in particular excels as Jack asserts control and struggles to achieve an uneasy peace, and Ro-Jedda blatantly lying about recent events to the public while assuming further control of the city's workings and outsources policing to 3Sol is yet another wonderful lead-in to the concluding set.
While it is true that Andy's actions being due to an outside influence is utterly predictable, to flippantly disregard the story for that reason takes away from the profound self-exploration of the character as well as the magnificent work that Price does to bring that mental anguish and conflict to life in a very topical storyline. This second set as a whole may not advance the Sorvix or Gwen storylines quite as much as anticipated despite uniformly strong and polished outings throughout, but the wonderful character work done in the last three stories that would feel just as much at home in the more intimate monthly range as in the expanded-cast Aliens Among Us continues to lay the groundwork for what is shaping up to be a monumental final set that should benefit from the background information and setting in place and a tense cliffhanger with the past, present, and future all called into question.