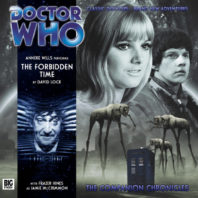 Released March 2011
When the Vist descend upon the Earth and claim an area of time for themselves in David Lock's 'The Forbidden Time,' humanity enters a state of panic, knowing that a most terrible price must be paid to enter the immediate future. One woman has stepped into this future long ago, however, and Polly Wright must now reveal the truth behind this impending threat.
'The Forbidden Time' is a story founded upon a grandiose idea, namely that a particular species that is able to move freely through all of time has decided to cordon off a specific block and to demand payment of a proportion of a normal lifespan of any creature who enters it. The Doctor rather abruptly discovers this when he collides with a wall across the time vortex, a feat he thought impossible since everything coexists with everything else at all moments within it. Doctor Who has occasionally tackled sideways jaunts through time to circumvent the usual linear flow of time, but the notion that some worlds exist as mere shadows of the main one in which structures but not lifeforms can exist is a brilliant one that the presence of the TARDIS bridges nicely. Whether taken in context of the black and white stylings of the Troughton era or not, there's something undeniably and visually evocative about the lanky and bug-eyed Vist plodding and careening through an empty world, and having this Doctor showcase his indignation about this offence and his manipulative side by boasting about his own race's temporal prowess and age masterfully if rather easily proves the lengths he is willing to go to in order to ensure the sanctity of time and its free use by everyone.
A three-companion TARDIS is always a difficult one to navigate when the Doctor is also a focal character, and although it is something of a necessary shortcut to remove Ben from the proceedings, especially since his apparent death shows just how deeply Polly cares about him and how unaffected Jamie is in the moment due to the losses he has endured in his own battling past. It's an odd choice to suggest that Ben and Polly do not end up together in the long run, but the fact that they still meet up to chat after all of these years is a strange comfort and fuels the framing device that throws more than a few knowing winks at the audience as Polly speaks to an assembled group about her experiences with Jamie's recordings of his perspective from the time offered in support. While this frame does not quite succeed as much as the story itself and ultimately proves that the drama in the present is all for naught since the issue has already been addressed rather brutally, it does provide a unique break in the action that also allows some of Polly's more natural emotions to shine compared to the frantic moments running from and then confronting the Visk.
Lock clearly understands the nuances of these characters, and the brief but insightful comparisons between the First and Second Doctors that Polly offers are superb. Even with Ben absent from the majority of events, his love of automobiles in all times that proves to be his anchor to the real world is an absolute highlight and helps to further flesh out this character who has sadly had so much of his televised material lost. 'The Forbidden Time' offers a much grander scope than many serials of the Second Doctor era, but strong direction as well as standout performances from both Anneke Wills and Frazer Hines visually and stirringly bring this epic to life most satisfyingly.