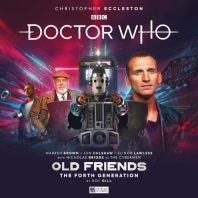 Released February 2022
SOME SPOILERS FOLLOW
As the first series of The Ninth Doctor Adventures comes to a close with Roy Gill's 'The Forth Generation,' the Cybermen have arrived as local folklore and folk horror become much more overtly dangerous. The Doctor, the Brigadier, Sam Bishop, and Fiona McCall are at their mercy, and their only hope relies on UNIT's past and the strength of human resolve and nature.  
Gill clearly has a fondness for this locale and for the Cybermen, and he continues to weave the histories of both together impressively as the memories of workers trapped in the steel segue into the fact that a lone Cyberman who crashed on Earth at the same time as that the Doctor encountered in 'Monsters in Metropolis' had converted the bridge's workers into a new and waiting army. Of course, with an adversary as old as the Cybermen, it's increasingly difficult to find a completely new angle to explore their strengths and weaknesses, but it's exciting to see that UNIT has learned from its previous encounters with the Cybermen and even adapted some residual technology to its own benefit to help with subsequent attacks. Unfortunately, that prior strength for UNIT is exactly what this looming threat needed, and the quick adaptations and upgrades that ensue are a stark reminder of just how truly dangerous this particular threat always is.
With nods to 'Cyberwoman' and 'The Next Doctor,' Fiona's shocking partial conversion is utilized to maximum effect to not only highlight the horror of the conversion process but also the strength of human emotions and resolve. Indeed, both Nicholas Briggs and Elinor Lawless give impressive performances that present a range of modulations and intonations as technology and emotions change, and although the ultimate resolution is a variation on one that has been seen many times previously, it provides suitable closure to the relationship between Sam and Fiona while also exemplifying the very best of humanity as even the Brigadier acknowledges that a shoot first and talk later approach is not always best. Lawless is a standout presence as Fiona assumes control and refuses to cross certain lines, and though the Cybermen vocals are a bit disconcerting given the heavy advertising of the Mondasian version on this set's cover, this represents a very strong use of the Cybermen while proving that even smaller and less iconic locales can harbour immense threats.
Old Friends has very much focused on the theme of the power of memories, and while that certainly holds true with Fiona's own saga as Sam is springboarded into the world of UNIT, it is all the more poignant and prevalent for this battle-scarred incarnation of the Doctor who has come to regard the Brigadier as perhaps his greatest friend and someone with whom he can empathize, especially in the face of a foe they have both fought previously. Christopher Eccleston and Jon Culshaw developed an immediate chemistry in the first part of this story that perfectly delved into the bevy of emotions these two characters share after working so long together, and a Ninth Doctor who is utterly defeated here allows Eccleston to pour forth a tremendous range of emotions not often seen as the Brigadier continues to draw upon his own experience and emotions to continue the fight. It would not have been enough to have these two simply cross paths, and the tremendous stakes and prospect of defeat bring out the true humanity of both with a fitting and wholly satisfying tribute to Doctor Who's past and present.
'The Forth Generation' is very much more of an action-adventure story than the first half, and the immense visuals of Cybermen attacks and the evocative sound design and music ensure that each scene is relevant and hard-hitting. This is very much in the vein of a Russell T Davies finale and sees the heroes taken to the brink, and while it does liberally borrow from other Cybermen stories to reach its conclusion, the overall whole is monumentally entertaining and a strong conclusion to Eccleston's debut run of Big Finish adventures.