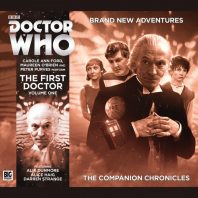 Released June 2015
SOME SPOILERS FOLLOW
The historical genre remains one of the most endearing and unique aspects of the First Doctor era, and even as elements of science fiction began to encroach on the genre as time progressed before roles flipped and history began being used as a background for science fiction, there still remains an appetite for those original stylings that dealt solely with the situations and people in their natural environment. 'The Founding Fathers' by Simon Guerrier represents the first trip into history for the relaunched The Companion Chronicles as the TARDIS lands in Leicester Square in 1762 and only Benjamin Franklin can help the Doctor, Steven, and Vicki regain entry into their locked ship.
Interestingly, with the four-installment box set annual release format for this series presumably intended to draw in new listeners without the burden of so many dozens of previous tales, 'The Founding Fathers' continues with the cliffhanger and arc introduced in 'The War to End All Wars' as the framing device for this story. Sida, the granddaughter of Steven who was once king of this planet of 'The Savages,' tells her grandfather that the simulated Doctor's brain maintained in a container of liquid plans to run for election to replace his daughters in charge. Steven used to regale his granddaughter with stories of his travels with the Doctor, but he intrinsically knows that this brain is not the same thing as the man himself, and his recounting of their meeting with Benjamin Franklin intends to reveal these subtle differences and the fact that the real Doctor considers every person important regardless of his or her impact on history. The narrative is much more successful as a standalone story than within this context, but the eventual revelation that this mind knowingly murdered a man to try to regain corporeal form and that Steven was complicit to some extent with covering those details up accomplishes this feat much more effectively while showing a uniquely ambiguous side to this older Steven whose loyalty is suddenly tested on multiple fronts.
Benjamin Franklin is undoubtedly one of the most impressive and important figures the Doctor has ever come upon, and his significance in the realms of science, inventions, diplomacy, and politics is given due consideration here as the mysterious figure of Abigail Bolt who is not mentioned in any of the history books suddenly takes a deep interest in Franklin. Steven and Vicki, of course, have experience with time travelers meddling with established events, and so it's wholly natural that the group's suspicions would trend in this direction, but as the need for another storm to put to use Franklin's pioneering experiments to open the TARDIS increases, Bolt's more grounded and practical connection to Franklin is both fitting for the time and poignant in its delivery. With the First Doctor at his most mischievous as he eventually reveals that he simply wanted to meet Franklin and did not need to undertake this lengthy ordeal, the scene in which Franklin first experiences the interior of the ship and tries to figure it out with his scientific knowledge is beautifully written and performed and represents a true standout moment for this series.
'The Founding Fathers' is perfectly entertaining and sheds light on a fascinating figure that the Doctor has shockingly not come across before now. And although the story never quite achieves a strong cohesive momentum because of the two concurrent storylines with Benjamin Franklin and Steven each as a founding father of sorts that each need time to develop before revealing that the older Steven's storyline is simply setup for the finale of this set as the Doctor's copy transfers himself into the computer system to avoid doing further harm, the characterisation and imagery are excellent from beginning to end. It goes without saying for those familiar with The Companion Chronicles that Peter Purves gives an immense performance both as Steven and this facsimile of the First Doctor, and he effortlessly brings to life the many scenes in which he must speak by himself as both characters, lending an immense degree of scope and verisimilitude to this very intimate format.