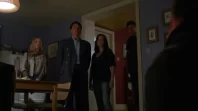 Aired 02 September 2011
SOME SPOILERS FOLLOW
Humanity continues to devolve as the effects of the Miracle continue to endure in 'The Gathering' by John Fay, and while Torchwood continues to look into what the Blessing truly is, Rex and the CIA begin to try to uncover anything they can about the enigmatic Three Families.
Miracle Day as a whole has been filled with seeds that could in other circumstances yield gripping and genuine drama, but almost always it has chosen to gloss over these aspects by moving its narrative elsewhere. With a jump to two months following the events of the preceding episode, 'The Gathering' continues this trend by choosing not to deal with the aftermath of Esther and a gravely injured Jack trying to escape from the CIA. Jack is not fully healed, but the two simply arriving at Gwen's house and saying that some people managed to smuggle them overseas- at a time when crossing international borders is all but impossible- presents a glaring omission that only becomes all the more problematic when Oswald as the world's most wanted man claims to have independently used the same services to likewise reach Gwen. Somehow, despite the desires of Gwen and Rhys to brutally harm this convicted felon who only escaped death because of the Miracle, Oswald is able to keep talking long enough to prove that he can be of some use to this group even if his information is not quite as sound as he would believe, creating a new twist on the team that has been functioning somewhat dysfunctionally up until this point.
Unfortunately, the entire time spent in Gwen's domicile is muddled at best even after the convenient convergence of characters. 'The Gathering' seems to forget that Oswald is the definition of irredeemable and cannot simply be slotted into a sort of antihero role; it then spends far too much time with police searches for Gwen's father whom she has been hiding to save him from incineration. This latter aspect is particularly frustrating because, although it does add a personal element of threat to the changing dynamics of the world, it's never explained why there is such a persistent and dramatic search for a single harmless individual and why the police are becoming more authoritative and even taking glee in the prospect of an old man burning. Since society and the world at large have been largely unexplored, this sequence seems much more disjointed and less immediately impactful than it should since more questions are raised than answered about the world- or at least the Unite Kingdom- and its apparent regression.
With storylines intersecting around the online erasure of Jilly's existence and the role of misinformation and changing public interpretations about the Blessing, the most effective narrative thread here surprisingly belongs to Rex who proves himself to be a thoroughly resourceful and determined investigator as he tries to find any information about the three families that are completely absent from any historical records. His looking to fictional accounts with similarities to Jack's torture is inspired, and while assuredly the somewhat haphazard work of the families' agent within the CIA to sabotage his investigations will be discovered in the future, his insistence on following up his hunch from different angles finally portrays this character in a genuinely positive light and showcases the heroic element of the character that has always been hidden under a persona that to this point has been rather hard-hearted and glib. It is quite jarring to have the CIA focus so prominently after being more of a background component to this point, but there's no denying how effective this plot is and hints at a totally different angle this series could have taken.
With only one episode of ten left, the truth behind the miracle really should be fully known, but Miracle Day has chosen to leave almost all of its revelations until the very end which will inevitably mean a rushed conclusion. Nonetheless, Jilly also has a surprisingly strong showing in this episode as she accepts her promotion via a one-way ticket to Shanghai to "write history." She allows the audience its first glimpse of the mysterious entity known as the Blessing that stretches through the globe from Shanghai to Buenos Aires, and the intimations that some people have died in its presence while she simply proclaims that she is right are intriguing avenues to pursue further. With the groupings of Jack, Gwen, and Oswald and of Rex and Esther proving miraculously adept at crossing closed borders to Shanghai and Buenos Aires, respectively, and with Jack's blood apparently leading them to the Blessing, a momentous confrontation is all but assured, and hopefully the finale can do what the series as a whole has not by truly and finally delivering true and deep character-driven drama as all hidden truths are revealed.