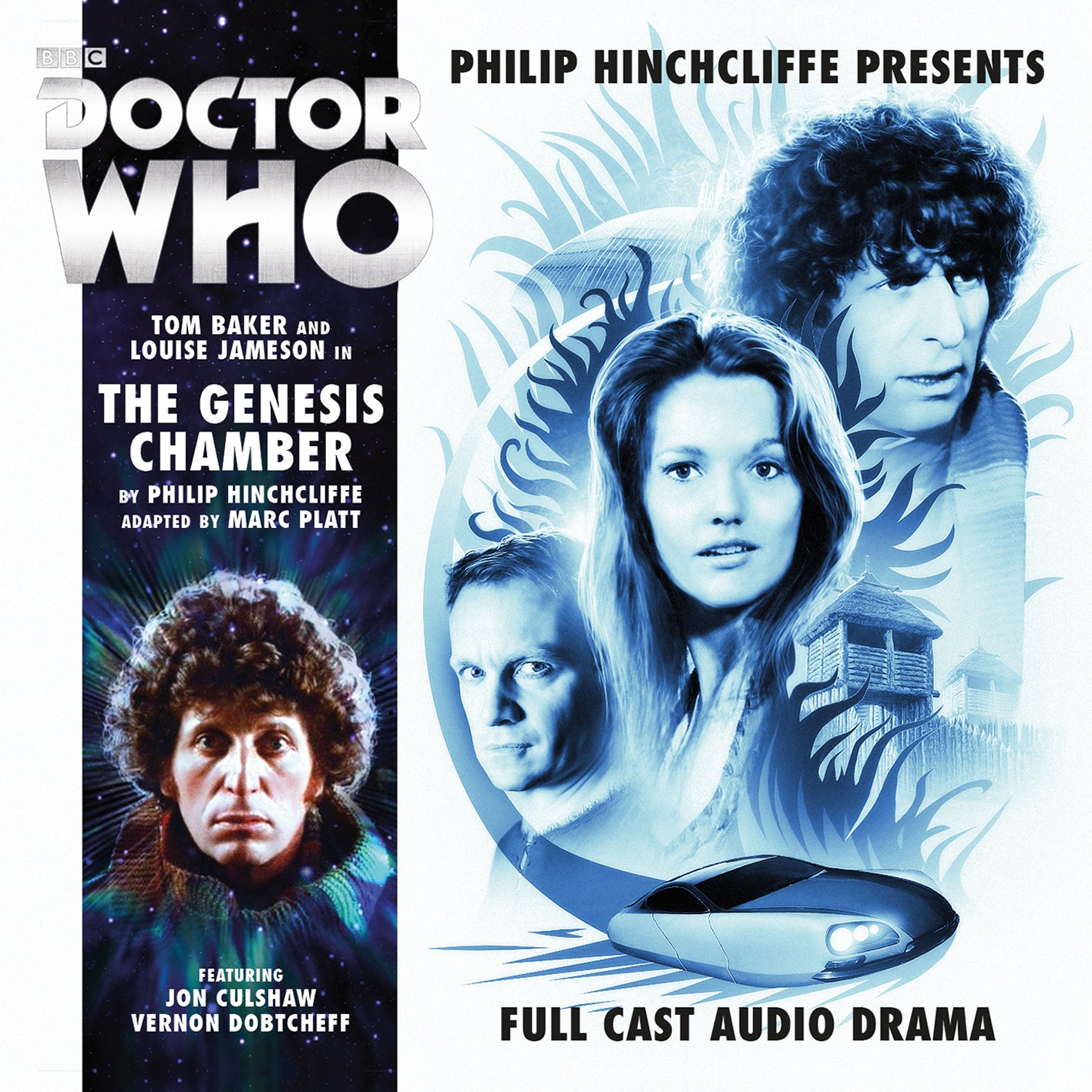 Released September 2016
Few eras of Doctor Who elicit such fervent passion among fandom as the three season with Philip Hinchcliffe as producer. Following Hinchcliffe's rather daunting but ultimately successful undertaking of overseeing the recreation of his era with Big Finish's first installment of Philip Hinchcliffe Presents in 2015, he returns to the Doctor Who universe once more with 'The Genesis Chamber,' this time taking events off of Earth and not using one of his televised serials as a guiding point, allowing a true love story to flourish.
Set on a futuristic human colony world, 'The Genesis Chamber' does at least borrow some elements that are very familiar to 1970s science fiction as one subset of the population is completely dependent upon technology- even using the titular Genesis Chamber to selectively procreate- while the other has completely forsaken technology in a community outside of the city. While the two sides are refuse to give an inch and meet somewhere in the middle, the President's children stealing a car and heading into the city sets into motion a change of events that will forever change the world as a more nefarious third party slowly reveals itself. Bringing out plenty of the expected horror while not forgetting the penchant for comedy that Tom Baker brings to the role, 'The Genesis Chamber' slides into the Fourth Doctor's era very well as a story of romance unfolds amidst the resultant power struggle and implications of eugenics.
After five series of The Fourth Doctor Adventures and several one-off adventures for Big Finish, Tom Baker has firmly recaptured the essence of what makes his Doctor so beloved, bringing to this release an ardent enthusiasm as he effortlessly switches from manic energy and humour to morose earnestness and determination. The scene in which the Doctor believes Leela to be dead, waxing lyrical about what a bright star she was, is particularly riveting and allows Baker to show a more deeply sentimental side than usual. At the same time, Louise Jameson continues to excel as a wiser Leela, particularly as she struggles to control her instinctual anger. Philip Hinchcliffe has a firm grasp on this character like nobody else, and he continues to flesh out the character in very rewarding ways even after all of this time.
Each member of the guest cast is on top form throughout 'The Genesis Chamber' as well. Although the story involving the President's daughter Ana and the outsider chief's son Shown is extremely predictable, Hannah Genesius and Arthur Hughes bring genuine emotion and realism to the respective roles, and Genesius in particular strikes up a wonderful repartee and bond with Baker. Jon Culshaw brings a gritty resolve to his morally questionable President, and Gyuri Sarossy is utterly chilling and mesmerizing as the villainous Volor as he strives to rid his world of the human plague.
Although the plot does follow some rather predictable avenues, credit must be given for not shying away from some very dark moments of threats and violence, helping to lend a staunch realism to a story which sometimes has a bit of a soap opera feel. It would have been nice if the Genesis Chamber had been built into the plot a little bit more seamlessly early on before becoming the crux plot towards the end, and seeing a little more development in the relationship between Ana and Shone from one-sided crush to marriage could have left a little bit more of an impact in the long run, but the overall experience is certainly another successful- if perhaps just a bit too lengthy- outing for Philip Hinchcliffe and his dynamic duo of leads.