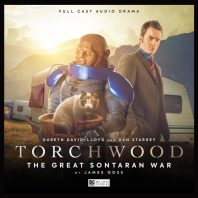 Released October 2021
SOME SPOILERS FOLLOW
The deadly war between the Sontarans and the Rutans has raged across the cosmos for millennia with neither side able to make meaningful headway. In James Goss's 'The Great Sontaran War,' Major Kreg has been sent to carry out a strategic assessment of Earth and humanity to determine the ultimate value of both, and Torchwood has decided that, along with a perception filter, Mumbles Bay Caravan Park is the best place for him.
For how brutal and determined the militaristic Sontaran race is, its members have always managed to imbue a sense of lightness and at times even comedy to the extreme danger they present, and 'The Great Sontaran War' certainly does not shy away from the inherent comedy that such a fish-out-of-water setup allows. However, no piece of comedy here is without its more dramatic and even introspective counterpart. So while the pure visuals of Kreg grocery shopping and keeping a cat he has named Group Marshall Cat as a pet practically write a story by themselves as he discusses the Internet primarily being about cats while learning its habits and how Sontaran ideals don't necessarily transfer to pets that naturally spit up, both allow Kreg to inadvertently learn about human behaviour and to begin to form connections with those around him as he comes to realize the nuances of daily life. It's not lost on Kreg that in many ways Torchwood is keeping him as a pet as Ianto brings him food and cleans up after him, and although he steadfastly refuses to accept that role, it nonetheless is a fascinating piece of development for a race that can often be somewhat one-dimensional.
Of course, Dan Starkey has perfected everything related to the Sontaran race over the years, and the emotional journey that Kreg goes on as he learns that first impressions mean little and that sometimes weak people obtain power is surprisingly poignant. Nothing is particularly revelatory or unique, but the rigid and formulaic mindset of the Sontarans within the maelstrom of human emotion and motivations provide a unique filter through which to look at the everyday struggles, victories, and injustices that pervade each segment of society. Kreg forms an unlikely group of allies here as he comes to find himself caring about those around him, and the full development of his friendship with Kaye Brown's Mrs Appleby is a true highlight that leaves open plenty of potential for further stories at this park.
'The Great Sontaran War' is set somewhere within the first two televised series of Torchwood, and it significantly leans into Ianto's sense of not belonging while deftly contrasting that with a lone Sontaran so far removed from his element. Gareth David-Lloyd is always spectacular in the role of Ianto, and while this is hardly the strongest Ianto-centric tale that audio Torchwood has offered, the smaller moments allow plenty of insight into this beloved character's inner thoughts and sentiments that he doesn't always allow to surface. This is also a nice contrast to the brilliant incorporation of the actual Sontaran war and the highly unique properties the Rutans possess once Kreg regains control of communication abilities. The visual type of threat the Rutans present is incredibly difficult to pull off in the audio medium, but deft direction and sound design make this brief appearance a satisfying tease of what remains possible with this rarely-seen foe. It's a fitting inclusion for this Torchwood tale that is so directly tied into Doctor Who, and although it's hardly the most unique story, it makes incredible use of its cast and of its aliens to further contextualize the Sontaran mindset as well as humanity in the process.