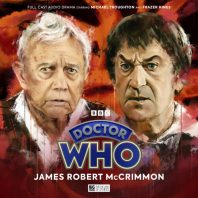 Released July 2023
SOME SPOILERS FOLLOW
Asking for a holiday without monsters or the impending threat of death, the Doctor and Jamie are despatched to The Grove, a rehabilitation centre situated hundreds of miles above the forest canopy of Florestus Prime, in 'The Green Man' by Paul F Verhoeven. As their search for a missing Time Lord continues, however, they can't help but wonder about the strange, late-night rounds of Overseer Fuller in this facility that otherwise seems empty and that perhaps Raven has not been completely forthright with them.
Following 'Jamie' that saw the Doctor and Jamie spend relatively little time together once reunited, 'The Green Man' begins somewhat strangely by revealing that there have since been numerous adventures with this duo under the stewardship of Raven and the Time Lords. While this does allow for a certain shorthand to avoid dedicating a substantial portion of a brief, two-part story to delving into necessary reminiscing and updating while again explaining the Doctor's current tenuous arrangement with the Time Lords, these are also elements that should be celebrated in a reunion of such a beloved duo to truly allow their friendship and personal nuances to shine. It ultimately has no bearing on the story except for setting the stage for the request for a holiday, but it seems like significant opportunities for character development were bypassed for expediency while already creating a significant new hole within this new territory for the Second Doctor that absolutely deserves further exploration.
On its surface, requesting that the Doctor and Jamie search for a missing Time Lord seems to be a fairly minor task that doesn't truly explore the massive potential that forcing the Doctor to act without complete autonomy brings with it. However, while maintaining a certain air of aloofness, Raven proves that she is unafraid of becoming directly involved in affairs as she boldly ensures that the Doctor will not have to pretend to be ill to gain admission to the Grove, and her relationship with the Doctor becomes all the more layered when the task she sets him becomes entirely reframed by story's end. The path to this point that pays homage to Rear Window with the Doctor incapacitated and able only to watch events from his room is suitably strong and brings forth an eerie atmosphere and tension as the patient waving from across the courtyard piques his attention, but once again it's the potential going forward that Raven's revelations create that hopefully indicate an even bolder new direction this Season 6B arc will continue to go in to wholly distinguish it from anything Doctor Who has ever before done in any meaningful capacity.
Michael Troughton and Frazer Hines showcase a brilliant chemistry throughout 'The Green Man,' their characters' enduring friendship more than evident as they play to each other's strengths and personalities and know all too well what the other is thinking as they continue their search for a person whose appearance may have changed since last being seen. Nigel Havers helps to create the intensifying sense of unease within this startlingly empty facility as his Overseer Fuller promises to give the Doctor his undivided and personal attention, and the inclusion of a Krynoid to present such a fearsome explanation for the current situation at The Grove is a perfect tie to classic Doctor Who that amplifies the stakes immeasurably. Perhaps inevitably, the resolution does come about relatively quickly and doesn't allow for much exploration of the fallout within the primary setting, but the shrewd intelligence and enduring comradeship of the Doctor and Jamie that even Raven cannot account for is nonetheless a brilliant plot point that reaffirms that the Doctor is never completely powerless and that sets the stage for even more momentous adventures yet to come.