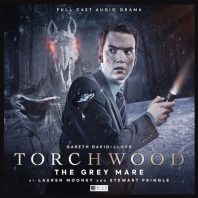 Released December 2021
SOME SPOILERS FOLLOW
As the 2021 run of monthly Torchwood adventures draws to a close with 'The Grey Mare' by Big Finish newcomers Lauren Mooney and Stewart Pringle, Ianto has come to remote Welsh village in search of a quiet Christmas alone. The Mari Lwyd has come knocking, however, and only the most cunning will be able to send her away on this night.
The frigid darkness of winter evenings is the perfect setting for horror, and the more intimate nature of this range's smaller-cast releases allows for the cultural importance of this folk tale to vividly come to life as well as the intriguing dichotomy between its ability to bond locals and to isolate outsiders to fully develop. In a house under siege as the skeleton of a horse roams streets increasingly filled with the dead reborn and begs to be let in for warmth, the sound design and claustrophobic environment capture every bit of tension and anxiety available as fear, resolve, and love each come to focus in short order.
The plot of 'The Grey Mare' is quite straightforward as a result of its source material, but Mooney and Pringle very much put the focus on its characters and environment to deliver a wholly engrossing experience. Naturally, Ianto assumes that the appearance of this creature is in some way due to his work at Torchwood, and it's intriguing to note that the locals hardly react when he suggests that it is likely to be an alien that has come through the Rift. Tying an ancient tradition into something more otherworldly is a tried and trusted methodology for bridging the known and the unknown about a tale's contents and origins, and although Ianto is isolated from his team and Torchwood as a whole is hardly the most relevant here, the confidence with which Ianto acts because of his prior experiences is a testament to the character and foreshadows the man he will continue to become later in the franchise's continuity. He's caring but forceful as he tends to wounds and attempts to eliminate any means of drawing attention to his companions and himself, and he's incisive enough to know just how to connect with those around him in the most emotional and dire of circumstances in order to prevent further tragedy. Gareth David-Lloyd, as always, gives a sterling performance as Ianto, and even after so many stories featuring the character, the sheer charisma and strong characterization continue to highlight what a brilliant addition to Big Finish's roster this actor and character remain for Torchwood and Big Finish in general.
Amidst the themes of loneliness and depression that can become all to relevant and prevalent for some around the holidays, Rhian Morgan's elderly Mrs Watkins who is still coming to terms with the loss of her husband and Sion Daniel Young's well-intentioned and more naïve Daniel help to create a dynamic environment that becomes all the more oppressive until almost all hope seems lost. As the differing knowledge and tendencies of more rural Wales and of Cardiff continue to rear their heads, the end result is a an engaging and atmospheric tale perfect for listening while inside on a cold night. 'The Grey Mare' is a strong Torchwood debut for two writers who will hopefully continue to add to the franchise's mythos in the future, highlighting the smaller but dangerous nuances of more localized threats that the organization in any capacity can successfully continue to explore.