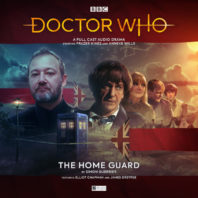 Released November 2019
SOME SPOILERS FOLLOW
First appearing in 2017's 'The Destination Wars' alongside David Bradley's First Doctor, James Dreyfus made an instant impact as an incredibly dangerous and manipulative pre-Delgado incarnation of the Master. As he finally crosses into original cast continuity in Simon Guerrier's 'The Home Guard' to begin the sixth series of The Early Adventures, Ben Jackson has returned in the middle of the Second World War to visit his married friends Polly and Jamie in a quiet English village.
The synopsis for this story clearly suggests that not everything is as it seems, and Guerrier uses the four-part nature of this story to deliberately build up the tense unease and the underlying mystery pervading this historical environment. The unassuming and eccentric Doctor leads an effort to protect the home front as a strange police box nobody gives notice to sits cordoned off and any memories of adventures in different times and places are seemingly non-existent, and small electronic anachronisms and ominous gazes from surrounding soldiers only heighten the unique oppressiveness of this wartime setting. Strangely, everyone seems to understand that something is not right here, and the Master is successfully able to paint the Doctor as a villain hiding his own bevy of secrets who even his one-time friends turn against. Once again, this is the Master without any sort of overdramatic theatricality, and the limits that he imposes on his own actions at this point in his life even as he proves more than willing to kill others to achieve his goals offers a fascinating study into just how much the character has progressed since his first nefarious scheme and how much he will continue to change in future incarnations. Without knowing if Big Finish will continue to develop this character beyond his imminent encounter with the Seventh Doctor in December, Dreyfus gives a calm but powerful performance that absolutely highlights the mesmeric prowess and malevolence of this foe that has been present from the very start.
'The Home Guard' is an instalment of the The Early Adventures that is quite reliant on its narration, and Anneke Wills capably serves as an unobtrusively effective narrator to provide the relevant background and linking facts. While this writing choice does take away from some of the narrative flow and at times puts the audience more ahead of the characters as the mystery develops, it also economically advances the plot to allow the relevant character interactions to feature more prominently. With Elliot Chapman continuing to excel as Ben Jackson who continues to enjoy a much greater focus within these narratives, all four regulars are well-served as the veracity of their surroundings is soon called into question. The unexpected marriage between Polly and Jamie provides a unique element that is exploited quite well throughout, and both Wills and Frazer Hines bring their respective characters to life with a new nuance that fits perfectly with everything that has been established over the many years since their time on screen. Still, this is a story that perhaps withholds the true threat at the heart of this mystery a bit too long, and while the character interactions are superb throughout, they can't quite compensate for the sentiment that the plot that is treading water with some repetitive elements before the second half completely changes the overall trajectory.
Still, with a more minimal but wholly effective soundscape that expertly complements the immense imaginative and visual nature of this script, 'The Home Guard' once more seamlessly brings together the best elements of 1960s Doctor Who with the Master and sentiments that would come to feature later. It takes a little time to fully develop its unique setup, but the end result is another powerful outing for Dreyfus's incarnation and The Early Adventures as a whole that has benefitted this particular TARDIS team so incredibly well.