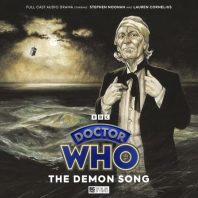 Released February 2023
SOME SPOILERS FOLLOW
Attempting to escape a mysterious force trying to grab hold of the TARDIS in flight, the Doctor inadvertently brings it to coastal England just as the country is trying to recover from the ravages of World War II, introducing another threat of total destruction in the process in Nicholas Briggs's 'The Incherton Incident.'
Less driven by a need to right wrongs and to help others, the First Doctor often needs a source of motivation or extenuating circumstances to become involved in affairs, and the premise of this unknown but powerful entity trying to control his ship is a brilliant hook that gives way to the equally fascinating notion of soldiers who are all too willing to go on the offensive in a world filled with countries and operatives that clearly still do not trust each other. This is an incarnation who rather likes to assert control and to exude the aura of order even as he is still learning about humanity and the many threats the universe can hold, and so the presence of the military that is founded upon regimen and order is a naturally intriguing backdrop and one that allows Stephen Noonan to fully explore the nuances of the First Doctor as he tries to assert himself and emerge victorious without any collateral damage.
Of course, the Doctor's efforts are very much complicated by the presence of American operative Virginia Hancock. This suave and confident woman is an extremely dynamic presence and just one of many strong female characters in this story that again helps to rectify some of the unfortunate norms of writing for women in the 1960s, and though the Doctor is initially shocked by her brazen callousness and willingness to resort to violence, the two come to form a most enjoyable pairing as they must learn to rely on each other and work together to continue their shared investigations. Unfortunately, despite Genevieve Gaunt's obvious charisma and chemistry with Noonan, Virginia joins the ever-growing list of Big Finish characters with suspect American accents, hers here being a very slow and drawn out cadence with randomly inserted Western movie twangs. Given how pervasive remote recording became during the pandemic and since Big Finish has recorded with actors overseas before, there really is no excuse not to bring in genuine foreign actors from any country being featured at this point to add to the verisimilitude of these stories and featured characters.
Ultimately, despite a great setting and core mystery, the biggest downfall for 'The Incherton Incident' is simply that there is nowhere near enough material to fill four parts. Far too much time is filled with Dodo being physically moved and answering the same questions or voicing the same concerns repeatedly or with the Doctor and Virginia traversing ground and then realizing they need to double back and find another way, the plot just as much as the conversations treading over the same ground from different angles time and time again. What could have been an incredibly snappy and fulfilling two-parter or possibly three-parter is instead slowed down unnecessarily by these elements that refuse to advance the plot in any meaningful fashion. Lauren Cornelius is again incredibly engaging as Dodo throughout and has already done far more with the character than Jackie Lane was ever allowed to during her tenure, but even with the likes of Thomas Michaelson, Paksie Vernon, Richard James, and Rosie Baker alongside her with the notion of hypnosis pervading this locale, this storyline can never truly build up any momentum due to the repetition. To its credit, 'The Incherton Incident' does try to tie into a larger mythology by hinting at what the Doctor may yet do in his future and how humanity may come to be seen as a blight on the universe, but these elements are added in far too late in the story to really resonate even as they force the Doctor to adapt, allowing for a dynamic and heroic moment for the Doctor nonetheless but ultimately just giving way to an even more intriguing cliffhanger. This is a script filled with truly strong ideas and many great characters, but it never overcomes the excessive padding needed and some suspect choices made along the way just to fill its allotted time in order to reach its true potential.