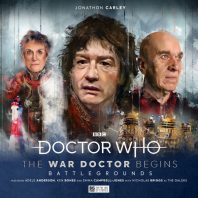 Released May 2022
SOME SPOILERS FOLLOW
Having forsaken his chosen title to reluctantly join the Time War between the Daleks and the Time Lords, the warrior incarnation that the Doctor would later try to completely hide away from memory continues to try to find himself as the stakes continue to rise in The War Doctor Begins: Battlegrounds.
Battlegrounds opens with Phil Mulryne's 'The Keeper of Light' and a most auspicious introduction to the Doctor and his companion, Layla Bridge, investigating psychic energy on a remote beach. This is a distinctly Earthbound setting for an incarnation of the Doctor that can be described as anything but Earthbound, and that smaller and more intimate scale lends a tremendous air of familiarity to this man who seems surprisingly willing to accept the moniker of Doctor from Layla and those around him. Indeed, the presence of a married couple trying to rekindle their spark after so long together gives this story a much more traditional Doctor Who feel than most War Doctor tales, the focus on the everyday plight of individuals not suffering from the effects of the Time War proving again to be a great window through which to explore this incarnation who is otherwise so often entwined in far more universally consequential affairs.
Of course, amidst the backdrop of a sailor that has died under mysterious circumstances, this slow-burning family affair naturally leads into a far more dangerous plotline that sees the very foundation of reality itself in flux as a light that should not be coming from the nearby lighthouse summons all of them forth. Even more than with its traditional setting and initial mystery, 'The Keeper of Light' is a story steeped in a skewed familiarity with Layla played by Emma Campbell-Jones whose character Cass was quite directly responsible for the creation of the War Doctor in the Eighth Doctor swansong 'The Night of the Doctor,' Dorothy played by Adèle Anderson who plays Tamasan in this series normally, and David played by Ken Bones who has previously played a Time Lord General for television and audio. This casting does imply that not all is what it seems straightaway, but it nonetheless allows for a fascinating look at this companion character who is bold, inquisitive, intelligent, and incisive while also allowing Anderson and Bones to successfully delve into a far more human and empathetic range of emotions than their usual roles allow.
This is the War Doctor's series, however, and so it's not surprising that off-kilter intimations eventually give way to an altogether more grandiose scheme to create a trap out of thoughts and even imagination itself. The Doctor's battle against the physical manifestation of this psychic influence is ultimately a bit underwhelming with the Keeper's modulated intonations a bit difficult to discern at all times, but the brutal truth about this created world in which he can claim his old name being his fantasy is both tragic and highly revealing. This is a rare trip into the inner psyche of the Doctor in any incarnation, and his yearning for his life of old is made all the more heart-breaking as he must choose to essentially kill this incredible companion as well as- once again- his own preferred identity. Sadly, it's no surprise that the basis for this trap is something the Time Lords are looking to weaponize, though the Doctor's unwitting role as a guinea pig is a brutal reminder of just how ruthless the Time Lords have become as their war against the Daleks continues to escalate. However, the Doctor's harsh reminder that the Daleks completely lack imagination to make an effective target for this weapon is a stark conclusion to a surprisingly introspective tale that reveals an incredible amount about this incarnation within a more grounded and traditional backdrop, and his decisive action in destroying the research here is a defining moment for this man who continues to define and refine his own morality. Jonathon Carley continues to impress in every scene no matter the scale and emotion needed, and Louise Jameson's steadying direction along with sterling sound design all combine to create a story that becomes all the more thrilling as it progresses regardless of whether the cast list suggests the ultimate twist to the listener beforehand or not.