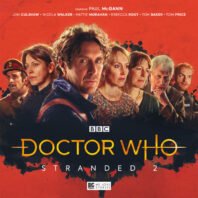 Released March 2021
SOME SPOILERS FOLLOW
Traveling decades into the paradox-ridden future rather than millennia as in the opener to Stranded 2, the Doctor and his companions are quickly captured by an unknown force that seems to know their every move in John Dorney's 'The Long Way Round.' An interrogator wants answers, but even finding the right questions proves to be a difficult task.
In many ways, the format of 'The Long Way Round' is perfect for COVID-19 lockdown restrictions as much of the story unfolds via one-on-one interview sessions between Annabelle Dowler's Houlbrooke and subsequent members of the TARDIS ensemble. Houlbrooke is nothing if not patient, and she understands implicitly that time is on her side as she continues her incessant series of questions over and over again in order to obtain the information about the Doctor she requires. Indeed, she knows her subjects implicitly, and she understands enough about human nature to know exactly which buttons to push to play upon their individual certainties and insecurities in isolation which creates a dramatic sense of tension and unease as the Doctor's motivations and whether they might change across multiple incarnations are called squarely into question. Houlbrooke's own motivations remain shrouded for much of these proceedings, and the fragments of information she allows her subjects to learn is an exciting tease that expertly maintains the intrigue and sense of danger regarding this paradox and how it may relate to the Doctor who is always so sure that he is doing what is best and that he can set right any wrong.
To contrast with the unsettling interviews featuring Andy, Helen, Liv, and Tania, Tom Baker returns as the Curator for a prolonged conversation with a young girl, Gemma, who has taken to watching the Baker Street home and the mysterious blue police box that disappears and reappears. Gemma is a firm reminder of how cavalierly the Doctor and his companions often act no matter the circumstances or their surroundings and also of how those living normal lives could and should come to wonder about the truth behind these mysteries. Tom Baker is once more superb in this role that sees him excel with amiable small talk as well as with enigmatic contextualization, and the inevitable intertwining of these two storylines unfolds effortlessly while still retaining plenty of questions for future stories to pick up and answer. Every question, initial response, and deeper thought are all perfectly measured and delivered in both settings, and the final twist only further intensifies the overlying mystery by superficially hinting at one of the Baker Street denizens' past and future experiences to remarkable effect.
Except for that final twist, 'The Long Way Round' is easily a story that could be listened to with no previous knowledge of the Stranded saga since it deals so directly with the implicit trust the Doctor inspires in others even though so much about him remains an unknown entity. At the same time, however, this is unquestionably a story that will be wholly integral to this saga as a whole as the scope and details of the paradox and this future continue to be revealed. Filled with brilliant performances that capture the shifting power of position and conviction as more details and truths become known, this is a strong finale for this second Stranded set that more than capably maintains excitement leading into this series's latter half.