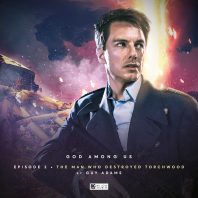 Released October 2018
SOME SPOILERS FOLLOW
Taking a step back from the overarching narrative of God Among Us, Guy Adams's 'The Man Who Destroyed Torchwood' focuses on the enigmatic figure of Brent Hayden, a crusader out to unearth conspiracies who can appeal to the left and to the right alike. With his videos global hits online and Torchwood his next target, the furtive organisation has never faced a threat quite like him, at least in his own mind.
Torchwood has never shied away from including both overt and allegorical references to the current state of the world and its politics, and Adams certainly does not fear delving into the recent rise of the alt-right in the public consciousness and the movement's members feeling only more vindicated in their beliefs and actions by the verbal pushback from the remainder of society. Hayden is out to destroy anything related to leftist conspiracies and implicitly understands that his video blogs are vital to spreading the truth, and Tom Forrester in quick succession offers a staggeringly complex performance as what surrounds Hayden in reality does not always mesh with what he perceives to be the truth. This is a man who believes himself to be a charismatic and irresistible orator who has people en masse hanging on his every word as he provides a beacon of light in an ever darker world, but the revelation that he is a lonely man living with his mother and obsessed with his online followers number that pales in comparison to several other figures like himself provides a unique dichotomy that simultaneously offers an enthralling character study the likes of which is rarely seen.
Wisely, much of Hayden's story is grounded in reality, and his interactions with Jonny Green as Tyler feeds him snippets of information and he crafts a narrative around them are immense and lend a further sense of unease to this tale that revels in conspiracy theories. He learns of a leader named Captain Jack, of Weevils beneath the city, and of Sorvix overtaking a city already beset in his views by more earthly aliens from overseas, and his gradual growth in confidence as his praise shifts from Tyler to himself while he spreads his own version of the truth is perfectly fitting of a man who genuinely believes he is making a difference but doesn't necessarily know how to handle the success that comes from it. Of course, nobody except perhaps Hayden himself could ever imagine him achieving the level of success that he does, and the results of his own investigations prove that he is not simply another hapless figure, leading to a genuinely brutal resolution that perfectly fits within Torchwood's mandate but that only reinforces the sympathetic nature of this insecure figure that Forrester manages to retain despite his character's nastier qualities throughout.
Just as captivating as Hayden's personal rise and fall is his vision of Torchwood that pervades the story, and his James Bond assumptions about the organisation as his Jack sports an outrageously stereotypical American accent and flirtatiously interacts with Yvonne provide a hilarious parody of the truth that seamlessly blends into the shifting normals of this story. John Barrowman, in particular, seems to relish the opportunity to play a more over-the-top version of Jack who has gradually become more subdued over the years with all that he has seen, and the continuing inclusion of the bizarre in a world that is so dark helps to craft a unique story that, while perhaps not groundbreaking, is incredibly enjoyable from beginning to end and should feed into the Sorvix storyline at large with Torchwood's long game in motion.