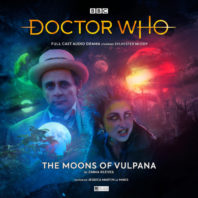 Released May 2019
SOME SPOILERS FOLLOW
The internal drama stemming from trying to find and accept oneself in a world and universe that constantly seem to be pushing back is an always-fascinating one, and few characters in the Doctor Who universe encapsulate this so resonantly as Mags, lycanthrope from the planet of Vulpana and former attraction at the renowned Psychic Circus. As Mags struggles to accept the full and true nature of her existence in Emma Reeves's 'The Moons of Vulpana,' the Doctor takes her to a Vulpana from much earlier than when Mags was taken, a time at which the Four Great Wolf Packs oversee the civilisation and find themselves in need of new blood.
Understandably, Mags's internal search and exploration covers some familiar ground, and the Vulpana society she finds herself is fiercely proud of its lycanthropic nature and the purity of bloodlines in particular. This civilisation is keen to keep to itself regardless of what any other planetary civilisations may think or say about them, and its members ties to the cycles of the four moons are steeped in honour and tradition as much as brutality and instinct. There is no hint of shame stemming from the natural changes that overtake the denizens at the appointed times, and Mags who has never truly found a home suddenly finds that she is of the ilk that others lacking pure blood are striving to become. Indeed, her stature means that she quickly finds herself positioned as a hopeful wife for two eligible bachelors from her own bloodline, and although the competition for her affection is somewhat clichéd and lacking in overall substance, the subtle differences in Mags's thoughts and beliefs are clear and provide both a sense of comfort and uneasy contrast to what she has believed for so long.
A story such as this is only as strong as its central performer, and Jessica Martin gives a stunning performance that captures every nuance wonderfully. This, of course, is not a society without its own conflict, and even as the world at large hopes to remain isolated from the universe, it's the voice of a third omega brother named Jaks that carries a certain resonance with it as he, too, hopes to find a way to shed himself of the embarrassment of the physiological changes that the moons evoke. Given the more violent tendencies that the lower-class individuals have been showing recently and the deaths that have taken those near to him, there certainly seems to be merit to his desire to not simply celebrate and revel in the violent traditions, especially since his people would just as soon turn their aggression on each other should the celebrated hunts be cancelled. However, when the appointed time for transformation comes and passes with no effect for the first time, it's clear that something altogether bigger than natural emotion and instinct is in play, the search for the truth leading the Doctor far beyond the borders of Vulpana.
It's here that 'The Moons of Vulpana' changes into something of a more traditional Doctor Who story, albeit one that retains a very personal element for Mags. With known Vulpanan society precariously perched at the edge of collapse and Jaks poised to wed Mags and gain an unexpected position of grand authority, the devious and dangerous means of bringing about change is surprisingly advanced; while this plan does seem somewhat far-fetched for this world that values physicality and strength over technology and weaponry, it does provide a unique subversion of expectations that ties into this most unique setting quite well. Unfortunately, the ultimate motivations that have brought Vulpana itself to the brink of destruction are far too generic to fully resonate even if the reasoning behind Jaks's ability to control his transformations like Mags so desperately wants to do is an interesting approach to take.
Reeves excels here with developing the hierarchies and different thought processes within this society, and Mags's continued attempts to discover and find peace with herself create a gripping emotional drama right from the start that compensates for some of the shortcomings and stereotypes that abound within the family she soon joins as well as a few questionable moments like Mags saying how shallow it would be for her to leave the Doctor for someone she just met that jabs at many former companions. Still, the resulting test of loyalty that allows for a resounding conclusion is a satisfying end point that further enhances the story as a whole, and 'The Moons of Vulpana' with its strong direction and sound design ultimately delivers another enjoyable character piece for Mags who still clearly has so much to offer as a character trying to figure out her own place as well as the Doctor's own motivations.