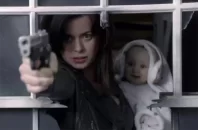 Aired 08 July 2011
SOME SPOILERS FOLLOW
Following the incredible success of the five-part Children of Earth, Russell T Davies and Torchwood return with the ten-part BBC/Starz co-production Miracle Day. One day, nobody dies; as time passes and as people continue to age and become sick and ill, still nobody dies to set the scene for the premiere 'The New World.' Resources will run out within months as the human population continues to grow, and knowing that someone must be behind this unnatural change, CIA agent Rex Matheson opens an investigation that leads him to a very old and secret British organization.
As an attempt to cater to its international American audience, 'The New World' attempts to balance its American and Welsh storylines as the world's population struggles to adapt to its new reality and the impending collapse of social services and infrastructure. Caught somewhere in the middle as the linking force between the two, Captain Jack Harkness has discovered that he is now the only man on Earth who can seemingly die when his injuries do not heal. It's an intriguing concept that subverts the typical standard of Torchwood, and the brash and confident Rex surviving an otherwise-fatal accident provides plenty of impetus for the character to delve deeper into what is occurring, using a ready supply of American stereotypes such as needing a gun at all costs at all times in his quest to uncover the truth and eventually using his authority to bring Gwen and Jack to the US to offer any assistance they can.
Naturally, this is the first time that Jack and Gwen have seen each other since Jack exiled himself from Earth, but there's hardly time for any happy reunions and reminiscing as Rex's pursuit of Gwen through Andy Davidson's recent phone calls and the restricted phone numbers list brings him and, in short order, a weapons-laden helicopter to the remote Welsh property in which she, Rhys, and new baby Arwen have been residing. Suddenly, their earlier mistrust of any passers-by is completely justified, and Gwen quickly shows that she has not lost any of her nerve or bravery as she takes the fight back to her pursuers with baby in arms. It's a bold and extremely confident reintroduction to Gwen, and instantly shows that Torchwood's surviving members will certainly be able to stand alongside this very action-oriented CIA agent no matter where the underlying conspiracy may lead.
Though 'The New World' features a relatively small cast to bring its surprisingly visceral story to life with a beheaded and disfigured skull continuing to show signs of life just one many startling startling visuals, the supporting characters of Esther Drummond who first makes contact with Jack while providing key insight into Torchwood and of the convicted and dark Oswald Danes who survives lethal injection and uses a somewhat tenuous but forceful assertion of laws to secure his freedom are wholly intriguing and unquestionably have the potential for much more development as their disparate worlds inevitably intersect. Alexa Havins and Bill Pullman create instantly engaging characters for wholly different reasons, and along with Mekhi Phifer as Rex they create an intriguing foundation for the trusted characters of Torchwood to interact with over the upcoming nine episodes.
'The New World' is stylish and confident but not without some rough patches and some narrative gaps needed to advance its story. However, with John Barrowman and Eve Myles back together and with satisfying if brief appearances from Kai Owen and Tom Price to satiate long-term fans and anchor its continuity, it represents a strong evolution for Torchwood as it takes to the international stage more than ever before and certainly serves to build excitement for the bigger story yet to be revealed.