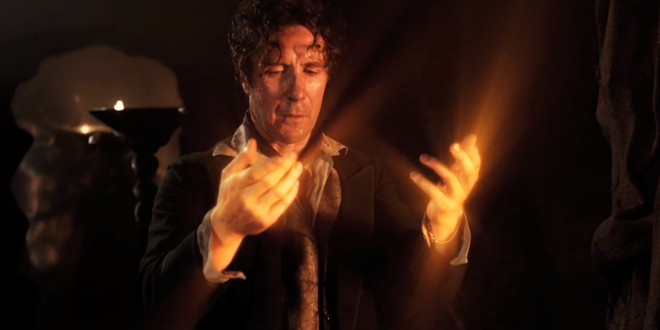 Aired 14 November 2013
Just in time for Doctor Who's 2013 fiftieth anniversary special, 'The Day of the Doctor,' the production team finally closes one of the biggest lingering gaps in the show's ever-evolving mythology. The show's return was made with a bold and wise choice to start fresh with the Doctor character rather than relying on tying him into the previous incarnations with a regeneration scene or flashbacks. The results cannot be argued with, but it meant that Paul McGann's Eighth Doctor- despite a long life in writing and ongoing audios- was still out there with a regeneration story to be told. In a surprise move, that tale was rather suddenly released to the public via the Internet in a seven-minute clip, McGann effortlessly reprising his role for his final bow.
Even long after the initial shock and excitement of McGann returning has worn off, 'The Night of the Doctor' remains a superb piece of filming, especially considering the short running time. The Eighth Doctor's wit and charm that had been evident even in the 1996 movie is back on display, but this is also a Doctor very in line with his Big Finish audio portrayal, more worn and grim after suffering so much. It is quite fitting for this ever-moral incarnation- even as the Time War rages on- that his end would come by refusing to abandon someone he hardly knew.
In a great nod to the past, the Sisterhood of Karn returns to prominence, only seen on screen in 1976's 'The Brain of Morbius.' Having temporarily sustained the Doctor's life, they offer him greater control of his next regeneration, allowing him to choose what type of man he will be. In a cruel twist, as this was the man who so wanted to distance himself from the devious inclinations and more aggressive tendencies of his predecessor, he knows that he must become a warrior due to the ongoing Time War.
Enter Sir John Hurt who is officially introduced as the official successor to McGann, the War Doctor that his future incarnations would try so hard to forget because of his actions. It is a clever twist to have Hurt appear so young in this story, especially given the more advanced age of Hurt in 'The Name of the Doctor' and 'The Day of the Doctor,' truly showing just how long the Time War raged on.
With clever nods to the past and a heartbreaking, tragic finale for the oft-overlooked Eighth Doctor, 'The Night of the Doctor' succeeds in every respect, completely changing the mythology of Doctor Who and opening up an entirely new avenue for exploration. Seven minutes has never accomplished so much.