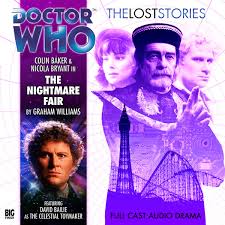 Released November 2009
Following Colin Baker's first full season as the sixth incarnation of the titular Time Lord, production began as usual on the franchise's twenty-third season with writers commissioned and certain staffing assignments made. However, with the BBC's forced eighteen-month hiatus of Doctor Who coming down at the same time, these initial stories were abandoned at varying states of written completion, more or less forgotten as a quirk of history when The Trial of a Time Lord arc superseded these plans upon its return. While Graham Williams's 'The Nightmare Fair' did at least see the light of day as a novelization, Big Finish begins its The Lost Stories range with a full-cast adaptation of that same story to begin to fill in that murky gap in continuity.
With the TARDIS drawn to 1985 Blackpool as the Doctor intends to investigate a mysterious space/time vortex while also enjoying some of the local amusements, rumours of a mysteriously appearing Chinese man and of robotic miners coming to life quickly sets the stage for another confrontation between the Doctor and his impossibly-old foe, The Celestial Toymaker. Assisted through the centuries by those whom he has defeated in games and sentenced to servitude and intensifying the challenge of his ultimate video game challenge by testing it on visitors to Blackpool, this telepathic and telekinetic being of unimaginable power who is so prone to boredom is just as dangerous and unpredictable as ever and makes the perfect transition to audio by imbuing a guarded tension to the events at hand. Though age and retirement precluded Michael Gough from reprising his famous role as was originally intended on television, the more playful stylings of David Bailie work wonderfully and quite happily add to the overall mystery of this character who was somehow hurled from his own universe into this one.
Wisely, Big Finish has chosen to write the Sixth Doctor as somewhere between the more caustic early television version and the softer and more nuanced version that Baker has cultivated on the audio medium. There are certainly some of the more demonstrative moments early on, but this is a Doctor in transition and could potentially serve The Lost Stories well if that transition is continued on through this missing season. The Doctor having a bit of fun at the fair works incredibly well and does help to portray this more combative incarnation in a more human and endearing light, and the many superfluous continuity references are perfectly in line with the programme at the time. Of course, the Doctor is always a kind-hearted pragmatist, and it's fitting that his powerful scenes with the Toymaker culminate in him showing regret as he once more emerges victorious and dooms his foe to imprisonment in an endless stream of time. And although 'The Nightmare Fair' was intended for television at a time when companions were hardly thrust into the spotlight, it is refreshing to see the dynamic between the Doctor and Peri becoming more comradely and supportive as well as Peri taking on a more proactive role as she attempts to get to the bottom of the mystery when separated.
Adapting a serial from a bygone era that was completed and already turned into a novel was undoubtedly a daunting task for John Ainsworth and Big Finish, needing to stay true to the source material while also trying to incorporate the storytelling techniques and character progression the audio medium has developed so wonderfully over the past several years. 'The Nightmare Fair' opens with a great setting and central conceit, and it ends up developing the Celestial Toymaker in unexpected ways while also progressing the relationship between the Doctor and Peri, but the overall pacing is quite uneven as the first episode slowly and quietly sets pieces in motion with no real sense of threat before a strong conclusion is rushed through all too quickly. It remains a strong beginning to this nostalgia-laden range, but nostalgia and strong performances don't quite manage to completely mask the pacing and tonal missteps.