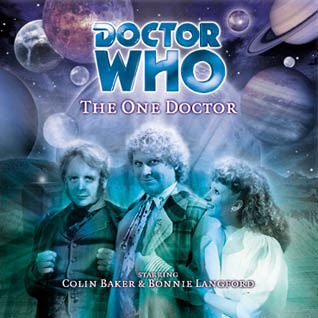 Released December 2001
'The One Doctor' marks Colin Baker's first audio adventure with Bonnie Langford as Mel and, given the circumstances of their meeting during The Trial of a Time Lord arc, this is likely the earliest chronological adventure of theirs so far. Fortunately, this is an utter masterpiece that not only firmly completes the renaissance of the Sixth Doctor through Big Finish but also toys with the typical Doctor Who format to great success.
The Doctor and Mel arrive on the planet Generios in the far future, only to find that someone called the Doctor has already saved these people. After the Doctor dismisses the idea that another incarnation may already be here, he takes it upon himself to find this man whom he believes to be an immitator, uncovering a far greater threat in the process. The adventure that follows is truly a comedy at its core, but the outstanding performances and well-written script elevate it to something truly moving and emotional. In fact, as the impostor Banto Zame is found out, it allows the Doctor and the resulting adventurous exploits to poke fun at Doctor Who itself while also parodying the tastes of modern television viewers by sending the Doctor on a quest that takes him to semblances of quiz shows and unending DIY. Truly, the only potential point of contention listeners may have is that the questing aspect of the plot may sometimes feel a little lengthy when dealing with such a superb central concept, though that would certainly be up to an individual's tastes.
Colin Baker is allowed to fully explore the comedic side of his Doctor, something only hinted at on screen and in other media, and writers Gareth Roberts and Clayton Hickman manage to balance that with Baker's traditional arrogance and more recent softer side absolutely perfectly. At the same time, Bonnie Langford proves once and for all just what she is capable of as Mel, given a much more meaningful role than she was often afforded during her time on the television programme. She genuinely sounds as if she is having fun recording this audio, and the companionship she demonstrates with Colin Baker during this tale is a huge tease to what could have been in different times.
The prominent guest stars of this story are Christopher Biggins as Banto Zame and Clare Buckfield as Sally-Ann Stubbins, and both are pitch perfect. In fact, had Big Finish decided to play out the mystery about Banto Zame's possible identity as the Doctor, Biggins proves that he could have handled that challenge with ease. The confrontations between the Doctor and Zame are easily some of the strongest of this story. Buckfield also proves adept at switching between naive companion and her truer, darker self as required, and she proves to be immensely entertaining in her own right as well. In fact, all of the supporting performers and characters are absolutely superb, all the way down to the Assemblers and the Questioner, and all of these are highlighted by Gary Russell's masterful direction that keeps everything credible no matter how strange or bizarre. Alistair Lock's futuristic score sometimes is bit ostentatious, but for the most part it perfectly complements the action at hand. This is a piece full of surprises and comedy that hits all of the right notes for its duration, and this is assuredly a release that will be remembered for a very long time as a Big Finish classic.