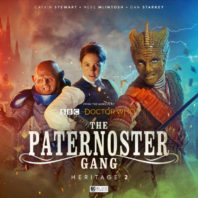 Released October 2019
SOME SPOILERS FOLLOW
Through a magnificent run with Jago & Litefoot and now with the continuing adventures of The Paternoster Gang, Big Finish has repeatedly proven that the visuals and soundscape of a Victorian backdrop perfectly complement the bold characters and ideas that the realms of Doctor Who can provide within the audio medium. Although Heritage 1 as the inaugural audio set featuring this unlikely Silurian, Sontaran, and human trio failed to truly capitalize on the true potential of the setup with a standout moment to give meaning to the subtitle, Heritage 2 looks to build upon the strong character and performance foundations of that first set to leave an indelible mark in Big Finish's ever-expanding catalogue.
'Dining with Death' by Dan Starkey opens Heritage 2 as Madame Vastra offers up Paternoster Row as a neutral ground upon which two warring alien races whose negotiations have been sabotaged can continue their talks of diplomacy. While Jenny attempts to uncover information about the saboteurs and Strax frets about meeting the dietary requirements of these two very different species for a celebratory feast, the good faith of negotiations is threatened on unexpected levels as a deadly plot soon emerges. Still, there has never been a shortage of charm and whimsy underlying the very serious plots that the Paternoster Gang has confronted to date, and the idea of aliens resembling walruses and foxes certainly continues to deliver on that front, but despite some truly audacious and striking visuals highlighted by robot reconnaissance crabs, 'Dining with Death' never quite delivers the impact it seems to be so dutifully trying to achieve. It hits all of the expected notes within this context and features an immersive soundscape, but the actual foundation of the plot is fairly generic and passes by effectively but fairly innocuously.
Starkey unsurprisingly has a very firm grasp on this trio of characters he has been a part of since 'A Good Man Goes to War,' and he perfectly pitches these three leads with an adept blend of humour and seriousness. However, with Jenny's quest serving more or less as filler with little ultimate impact on affairs, the strong central performances become all the more crucial in elevating this diplomatic mission to something more memorable. While the end result of 'Dining with Death' is an enjoyable romp, however, it seems content to revel in its daring premise rather than to truly innovate, not relying on its ideas so much as its charismatic leads and its set visuals that will certainly resonate longer than the plot itself. The future certainly remains bright for this franchise given the strong groundwork already in place, but thus far The Paternoster Gang has not fully approached its genuine potential as a weightier storytelling vehicle.
In 'The Screaming Ceiling' by Guy Adams, supernatural detective and great ghost finder Thomas Carnacki at the beginning of his illustrious career finds that another group of sleuths has already arrived to investigate the terrors of Castle Kraighten. Surprisingly, given the relative youth of this audio series, Adams chooses to tell his story more through the perspective of Carnacki while putting the Paternoster Gang into something of a collective supporting role as all involved are unwittingly brought together with a common aim despite very different motivations. Joe Jameson imbues the perfect combination of bravado and naivete to this unique if perhaps unreliable narrator, and although it's a bit of a shame that Marcus Hutton could not reprise his role from Iris Wildthyme to provide cross-range continuity, he deftly carries the narrative weight as this environment showcases the expected anomalies of temperature drops, ghostly visions, and inexplicable noises in addition to its most unexpected and visually intense titular feature.
While the ultimate truth behind these strange occurrences is fairly predictable even with its clever twist, 'The Screaming Ceiling' is unquestionably the best example of how well this series can balance comedy and horror as Adams nimbly jumps between tones to spectacular effect. Strax once more steals every scene he is in, and Dan Starkey, Neve McIntosh, and Catrin Stewart again excel to bring this haunted setting to life as it strives to do the same. This type of narration and narrative focus is not one that can be expected in every story, but together with strong performances, imagery, and sound design they highlight the wonderful chemistry of these characters and just how truly bizarre the usual stylings of the Paternoster Gang can be to an outsider- even one with as much knowledge of the occult as Carnacki- while creating a great example of just what this fledgling range can achieve.
With a monster reportedly stealing people from London's streets and a woman turning to the Paternoster Gang to help find her missing fiancée, 'Spring-Heeled Jack' by Gemma Arrowsmith brings Heritage 2 to a close. Allegedly featuring burning eyes and an uncanny leaping ability, none other than folk legend Spring-Heeled Jack has returned to stalk the city according to the local rumours, but the sheer number of disappearances that far surpasses what even the police are aware of as well as memories that straengely seem to be collectively diminishing amidst evidence that has been overtly tampered with suggest that something far more dangerous than just a legend come to life once more is wreaking havoc. Aided by engaging performances from Joe Sims as Jack and from Sophie Cotton as unscrupulous reporter Gwendoline Platt who subtly becomes wholly integral to the unfolding truth around them that subverts all expectations as benevolence comes to the forefront, 'Spring-Heeled Jack' makes the most of each of its cast members to create a vividly layered tale that is immersive and impressively paced with only the most minimal of padding.
As with the previous five stories, 'Spring-Heeled Jack' does nothing to explain the Heritage subtitle linking these early sets together, but taken as a story by itself it's likely the strongest offering on display so far. There's little need to point out the uniformly strong performances of the leading trio, but Stewart in particular stands out here as Jenny is thrust more into the proactive spotlight when alongside Gwendoline. There's still room for The Paternoster Gang to continue to develop and turn into something all the more immersive and profound while still highlighting the inherent range of tones that its lead characters necessitate, but this is an undoubted high for this series to end on and absolutely builds anticipation for what is to come as this audio range continues to find its voice and footing.