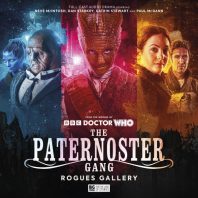 Released October 2023
SOME SPOILERS FOLLOW
The unlikely heroic trio of Silurian Madame Vastra, Sontaran Strax, and human Jenny Flint made an instant impact when introduced during the Eleventh Doctor's tenure on screen, blending bravery, intelligence, and comedy in equal measure to solve mysteries and help right injustices within their Victorian setting. After a successful run of audio stories under the Heritage banner, The Paternoster Gang now returns with Rogues Gallery, the first collection in the new Trespassers saga.
Inspector Cotton calls on Madame Vastra and her associates to help solve a series of seemingly impossible heists in Barnaby Kay's opener, 'The Ghost and the Potato Man.' Tipped off by Ellie Higson, the Paternoster Gang discover a strange link to Vastra's past within an unassuming music hall act. While this story is fairly light on plot as it fully delves into the theatrical world both on and behind the stage, a fact highlighted by Strax becoming a fast and gainfully employed celebrity alongside a comedienne as he threatens audience members with all manners of obliteration, few stories have successfully brought the Victorian world to life so vividly. Of course, the inclusion of Ellie from Jago & Litefoot who has crossed paths with Strax before also brings in a wealth of continuity and emotion in her own right, and Lisa Bowerman seamlessly integrates into this tale that centres upon strange disappearances. While the creatures that come to focus are somewhat let down by the chosen vocals and vocal effects that are assuredly intended to invoke an ethereal quality, their abilities and the inherent injustice that leads the investigators to the true culprit make for a unique threat that capitalizes upon the darkness and greed of humanity itself. Interestingly, Madame Vastra has become quite a well-known presence at this time, and her association with Jenny seems to be on the precipice of becoming public knowledge as well, a relationship that those who cross paths with the famed detective are willing to exploit and that provides Vastra with all the more impetus to endure and prevail. With Strax filling more of a comedic role while immersed in theatrical vernacular, a role in which Dan Starkey again excels, Neve McIntosh and Catrin Stewart adeptly carry the more thoughtful drama, proving just why these two make such a powerful couple together and apart. Still, despite immense visuals and pacing to accentuate the dangers and emotions on display, 'The Ghost and the Potato Man' does perhaps put too much of a focus on levity to highlight the unique quirkiness and bravado of the clueless Strax given how repetitive his act quickly becomes, taking away from some of the more thoughtful introspection that may otherwise have occurred with Jenny trapped and Vastra thinking back to her childhood and thus creating something of a more purposefully jarring experience than this range often presents.
In Dan Starkey's 'Symmetry of Death,' the Paternoster Gang find themselves drawn to investigate a murder, a locked room disappearance, and random acts of vandalism. Yet while at first the trio finds it easy to believe that there must be a single culprit linking these strange events together, the times of occurrence make that all but impossible to be the case. As their investigations lead to a hotel and an exclusive club in which women are not allowed, another link to Earth of old that here predates even Vastra's original time surprisingly reveals itself. Again, 'Symmetry of Death' makes it clear that humanity is the true evil here as a willingness to use, abuse, and even kill others comes to light, but the inclusion of prehistoric creatures within these Victorian confines provides a strong visual component to the story that allows for a tidy science fiction twist. As previously, the voices and vocal effects for the creatures are somewhat underwhelming, and the mental link component is but another variation on the plot of the preceding story; indeed, the fact that this solidly structured story shares so much in common with 'The Ghost and the Potato Man' in terms of crucial plot elements despite differences in tone and format proves to be its biggest detriment. However, as the past and present collide, Neve McIntosh is again superb as a more emotional Vastra who can quickly form a trusting bond, and Dan Starkey and Catrin Stewart both excel as Strax and Jenny undertake individual investigations and adapt to societal norms of the time. Alongside them, David Holt, Thom Petty, and Holly Jackson Walters develop a large and varied ensemble of characters to help bring these disparate but intertwined mysteries vividly to life even if such a large cast does mean that many aspects of these supporting characters are only briefly touched upon rather than truly delved into as would be the case with a singular mystery the focus. As before, there are deeper elements of drama that remain hidden due to the chosen tone of this series that always balances comedy and severity, and this is perhaps no more prevalent than in how quickly a senseless death is cast aside with the promise of a cup of tea making everything more tolerable. Nonetheless, 'Symmetry of Death' does toy with the more traditional format of The Paternoster Gang and manages to find great success via a truly intriguing story and Starkey's implicit knowledge of each of the three lead characters.
In Lisa McMullin's 'Till Death Us Do Part,' Jenny has decided after an emotional conversation with her parents that she wants a real, traditional wedding with Vastra with all of their friends and family present. However, when she goes to view a wedding dress, she inadvertently unleashes an increasingly serious sequence of misunderstandings and conflicts steeped in romance throughout the town. Seemingly centred around Miss Faversham who has apparently only tenuously been withholding her rage for thirty-five years since her fiancé left her at the altar, the troubles and confusions only escalate all the more as mysterious doppelgangers come and go; while another Sontaran in the house whom Strax battles on first sight and another Vastra who seems all too keen to give Jenny the biggest wedding ever are assuredly odd enough, the appearance of John Smith who allegedly jilted Miss Faverhsam so long ago and resulted in her likeness being used in Great Expectations is none other than the Doctor himself, albeit an incarnation the Paternoster Gang does not recognize. Naturally, this is a story high on emotion, and Beth Chalmers gives an explosive performance as Miss Faversham whose world comes crashing down around her once again as the Doctor explains himself, neatly tying into the spread of romantically-linked skirmishes as she threatens to burn everything down around her while also allowing for an element of pure humanity to develop that- even if not to this more demonstrative extent- is rarely explored in drama. Likewise, Catrin Stewart is wonderful as a woman who wants to formalize her relationship with Vastra, practically begging for others to take her and her feelings seriously in the process but understandably getting caught up in the emotions and splendour and planning while trying to traverse the different opinions on marriage that Vastra seems to be giving her. While the source of the romantic conflicts is subdued and eliminated fairly easily, 'Till Death Us Do Part' continues to twist until its very end after rather unabashedly proclaiming that it never did really solve the doppelganger plot. Instead, a remarkable threat is set up for future stories that perfectly intertwines with the preceding stories of this set and suggests that nothing presented should be assumed to be fact, something that Jenny horrifyingly finds out as her most joyous moment plays out without her. This is certainly the most engaging story of the set given the core mystery at hand, and while Paul McGann's presence certainly accentuates the drama by layering in another mystery in an air of familiarity, the lead trio, supporting cast, plot, and sound design, are in no way overshadowed and combine to end Rogues Gallery on a distinct high.