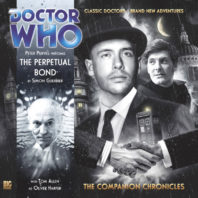 Released February 2011
Following an incredibly successful trilogy that gave the beloved Sara Kingdom a second lease on life, Simon Guerrier takes the more audacious step of introducing a wholly new companion to the First Doctor era in 'The Perpetual Bond.' Materializing in a familiar 1960s London junkyard, the Doctor and Steven soon find themselves in the company of the young commodities trader Oliver Harper who has a secret to conceal in a city housing far darker affairs hidden in plain sight.
The introduction of Oliver is handled much more delicately than was typical for the First Doctor era, his encounter with the Doctor and Steven preventing his capture for some illicit activity. Just what Oliver has done remains a secret through to the story's end, but this allows the character in his own right to shine, and Tom Allen imbues a certain genuine confidence and charisma to this financier who believes he can no longer be a part of this world because of what he has done. Yet despite his supposed transgression, he very clearly also has a strict morality, and the world the public at large never knew existed he suddenly finds himself in is a shock to the comfort he has found in the uniformity of the traders in the stock market and a strong precursor to the events he will surely find himself a part of as he joins the TARDIS.
The Doctor for his part is amused by the fact that he has inadvertently landed in the very place he tried for so long to reach with Ian and Barbara at his side, and he wonders if the TARDIS has perhaps brought him here to reconnect with old friends following the recent losses of Katarina, Bret, and Sara. However, adventure and intrigue are far better for the Doctor in this state, and in a culture where a man's word is still his bond and the economy is still hurting after two world wars, shrouded aliens have infiltrated the stock market to take up a trade in human beings themselves. Shockingly, this is all legal with specific key members of Parliament complicit in the scheme, and Steven's attempt to bring the authorities in to uncover this trade goes horribly awry as a result. With even galactic law on the Fulgurites' side, the Doctor is apparently willing to consign Steven and Oliver to a life of slavery because of their actions here, and that seemingly emotionless pragmatism is wholly believable for this Doctor who has just possibly come to accept loss and later brilliantly revealed to be part of a grand plan of his own that would make the most manipulative of his ensuing incarnations proud. This is a more shrewd and sanctimonious version of this Doctor than is often seen, but it's still perfectly fitting with the established characterisation, and Peter Purves gives a powerhouse performance as a more vulnerable Steven and a self-righteous Doctor in which he wonderfully recaptures the nuance and inflection of Willian Hartnell's delivery, especially in moments of indignant anger.
While the story may be a bit too pointed with its reminders of Oliver's big secret, the production features the expected sterling acting, direction, and sound design, and Steven's futuristic origins are exploited to magnificent effect as he tries to describe the normal workings of the 1960s and must recall even his limited knowledge about the time period to expose what is occurring within the confines of the stock market. Rewriting assumed Doctor Who fact with a new companion is no easy task, but 'The Perpetual Bond' confidently gets this bold experiment off on the right foot and ensures excitement remains high for next title in this sequence.