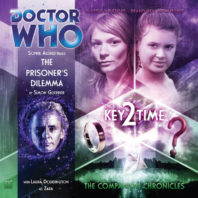 Released February 2009
Proving that The Companion Chronicles range with its combination of action and narration is every bit as full of variability and potential as any other, Big Finish takes the unique opportunity to further expand upon the concurrently-running Fifth Doctor Key2Time trilogy with Simon Guerrier's prequel "The Prisoner's Dilemma." With Zara in the spotlight and Ace surprisingly sharing her prison cell as their missions bring them both to the peaceful world of Erratoon, the two must decide whether to trust each other or to sell each other out to avoid the terrible fate of becoming just like everyone else.
By necessity, "The Prisoner's Dilemma' features some rather lengthy and clunky exposition to familiarize those not listening to the main range with this artificial being created to find the segments to the Key to Time by the Grace who in turn created the Key and employed the Black and White Guardians as their agents of universal balance. However, with that taken care of, the first episode surprisingly puts Zara into the role of narrator while further developing this woman who proved in 'The Judgement of Isskar' both how similar and how different she was from her twin sister Amy who traveled with the Fifth Doctor. Delving into her very first moment of consciousness and the information suddenly thrust upon her, the uniqueness of the living tracers with their initial fear and naivety is explored in detail with just a few key phrases, and Zara quickly describes her first meeting with Harmonious 14 Zink who would become so influential in the formation of her personality as they traveled to Erratoon. She is quite literally a woman trying to find herself while piecing together the world around her in her search for the segments, and she sadly learns about the more selfish side of human nature during these formative moments. Although Zink himself isn't shown to be altogether selfish during his time with her, this known progression of Zara as a character leads to a chilling but wholly effective moment during which her search leads to the loss of thousands of innocent lives, and Laura Doddington is absolutely superb in bringing this succession of emotions and self-discovery to life.
With these events thus leading Zara into prison next to Ace, the Seventh Doctor's companion dutifully takes up narration to reveal her own recent history. Notably, this is the more hardened Ace from The New Adventures, and although this doesn't change the character all too much in this instance, Sophie Aldred likewise gives a powerfully engaging performance from start to end. Unfortunately, whereas Zara's story succeeded because of self-discovery despite a relative lack of tension, Ace's story doesn't quite manage to carry that same weight, and the intriguing cliffhanger centring around Ace's memories and the deaths of everyone on Erratoon preceding an explanation that doesn't quite live up to its full potential is an unfortunate misstep. Perhaps because the story is split between two equally important and charismatic characters, neither portion fully has time to develop, and the same holds true for Zinc and Magda who are so crucial to the story as a whole. There is absolutely no faulting Big Finish for wanting to expand on Zara as a character given her importance to the Key2Time trilogy, and there are some truly fantastic ideas on display with the usual strong production values present, but even including the Seventh Doctor at his manipulative best on the sidelines as Ace's memories are erased and all truths are called into question doesn't quite help to deliver the gripping character drama that the premise of two trapped cellmates promises.