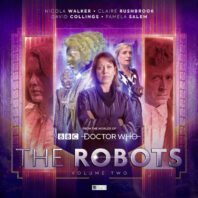 Released July 2020
SOME SPOILERS FOLLOW
Since 'The Robots of Death' premiered in 1977, the world of Kaldor, its politics, and its evocative humanoid robots have always remained at the forefront of many Doctor Who fans' minds. Yet while revisitations featuring various incarnations of the Doctor in different mediums have naturally occurred, perhaps the most surprising decision regarding this location and its features was to use it as a foundation for an audio series fronted by companion Liv Chenka during her year away from the Eighth Doctor during Ravenous 2. However, with the ever-charismatic Nicola Walker and Claire Rushbrook playing the Chenka sisters and anchoring these parables about the continuing advancement of technology and the wonders and dangers it can bring, the first set of three stories unsurprisingly and deftly presented a flourishing and familiar world filled with conflicting motivations and thoughts that simply begged for further exploration and development.
Wisely, The Robots Volume One stayed away from too strictly adhering to the successful plotline of the original televised story, but Roland Moore in the second volume's opener 'Robots of War' purposefully veers closer to the source material to deliver a familiar and yet wholly distinct experience. As Liv and Tula plan a visit to Tula's old flame, Captain Garlon Rosh, they quickly find themselves locked down in a military base with traitors and robots built for the devastation of war as their only company. While the ensuing story is perhaps not the most inventive, the fact that the situation so quickly spirals out of control because of humanity and the binary nature of programming nonetheless provides an intriguing angle through which to explore the tension of life on Kaldor as an increasing number of humans continue to become warier of their presumed servants. Indeed, it's this familiarity that corresponds with ongoing discussions and development in daily life that allows this story with tremendous ramifications to resonate so much and promise so much intrigue in future stories despite it being told on a relatively small scale.
A little disappointingly given the title, 'Robots of War' does not explicitly delve into the nuances and morality of war within this advanced setting. Nonetheless, the inclusion of Silas Carson as Rosh continues to develop the relationships between and around the Chenkas as Kaldor itself continues to develop as much on a personal level as on a global one, and hopefully he will continue to be a presence as this series progresses given his instant impact here. Walker and Rushbrook have an immense chemistry that allows their characters' bond to easily carry the tale, and the quick pacing, genuine tension, and surprises sprinkled in to this base under siege story provide a suitably stirring and engaging welcome back to this world and the complexities operating at its core.
Leaving Kaldor City behind to focus on a rural settlement where working in the fields alongside more rundown robots is key to daily life, Andrew Smith in 'Toos and Poul' picks up the narrative started over forty years ago in 'The Robots of Death' by bringing Ander Poul and Lish Toos back to the forefront. Poul, of course, was an investigator whose skills couldn't quite be recognized on screen when paired with the Doctor and his own robophobia, and it's intriguing to see that he has become a recluse since those fateful events. Yet when a murder strikes and company woman Toos returns to draw him out of his self-imposed retirement, David Collings and Pamela Salem instantly create a gratifying camaraderie with their reprised roles that sees Toos able to mitigate Poul's more impassioned moments stemming from his sustained distrust of and prejudice against robots. While Collings unfortunately passed away in March of this year, the revelation that Salem and he had already recorded lines for future stories certainly bodes well for the trajectory of this series as classic and modern elements of life on Kaldor continue to intersect.
Smith, of course, is intimately familiar with this world, having already penned 'The Sons of Kaldor' in The Fourth Doctor Adventures range, and it's no surprise that he manages to capture the sense of growing unease and differences of opinion within this society even at its more fringe components. With anti-robot extremists likewise gaining notoriety, it's clear that this story will be put into greater context as the many elements touched upon continue to develop. Nonetheless, with an intriguing mystery and brilliantly timed change of pace and setting compared to its preceding stories, 'Toos and Poul' by itself expertly circumvents the absence of the Chenkas by revisiting classic characters who still hold so much storytelling potential to thrust yet another intriguing narrative avenue into this series that has so quickly found its footing.
Sarah Grochala concludes this second volume with 'Do No Harm' and the Kaldor public looking to hold someone accountable for the laboratory tragedy that resulted in the deaths of 734 scientists. With an SV unit the likely and convenient culprit, Liv Chenka takes up the role of defending the accused robot when nobody else will. Naturally, Liv is committed to finding the truth and acting with the honour that her position should necessitate, and her continued pursuit of facts as accusations that would otherwise be taken at face value are levied is a testament to the character and the dwindling sense of genuine humanity that this society still retains. Although her client retains no memories of the event, it's clear that the odds are monumentally stacked against them, and the ethical and political ramifications of this trial and its sadly inevitable conclusion create a heightened backdrop for the remaining two sets in this series that should only continue to see the stakes raise further as true human nature is revealed and the Sons of Kaldor and their sentiments continue to gain power.
Instilling a sense of humanity to overtly emotionless and logical robots has been an impressive feat throughout these first two sets, and that certainly holds true with this SV unit that is increasingly distressed by the truth it is slowly coming to realize. Tracy Wiles is superb as both prosecutor and defendant in two wholly distinct roles that are obviously so closely intertwined, and Walker and Rushbrook continue to excel within this world that is becoming increasingly dark. For a short drama, the central mystery itself is incredibly engaging, and the questions it forces everyone to ask and consider certainly give 'Do No Harm' a profound impact that bodes well for this series while uneasily hitting close to home as society and technology continue to progress hand in hand in reality as well. This is a series that has continued to surprise with its breadth of storytelling and genres, and The Robots has quickly cemented itself as an engaging source of thought-provoking entertainment that comfortably slides into the ever-expanding worlds of Doctor Who and Big Finish.