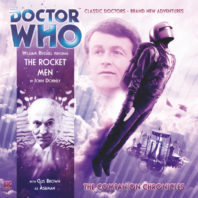 Released August 2011
Making only his second appearance in The Companion Chronicles, Doctor Who legend William Russell headlines John Dorney's 'The Rocket Man.' Enjoying a rare chance to relax when landing on an idyllic floating city above the planet of Jobis, the Doctor, Ian, Barbara, and Vicki soon confront the sadistic menace fronting the nefarious Rocket Men, and Ian soon takes the gamble of his life to save what he holds most dear.
This is an emotionally impactful story that takes full advantage of the audio medium, allowing its narrative to unfold in a non-linear fashion without discussing the particular outfits and visuals that would otherwise take away from the brilliant suspense as the three companions are held hostage with their lives on the line. As the story jumps back and forth to fill in the gaps and explain how these events have come to occur, Dorney astutely avoids the potential pitfall of solely basing this drama about the potential loss of Barbara given her known fate on television, instead focusing on the intense emotions building within and overflowing from Ian as events build to a climax with Barbara directly confronting death and a heroic and potentially suicidal act from Ian the only sliver of hope she has.
Of course, the underlying burgeoning romance between Ian and Barbara was one of the more understated and yet fulfilling aspects of the characters' tenure in the TARDIS, and Ian questions aloud to the listening audience just when a person truly realises that he or she loves another. Yet this is not a tale dedicated to soliloquys or even to grand gestures between the characters in a room together, instead allowing Ian to naturally build and accept what he knows to be true as he first must enjoy certain experiences of relaxation alone that he would rather share with Barbara and her infectious enthusiasm and then later must confront the prospect of losing her altogether. Indeed, when impulsiveness overtakes rationality and Ian takes the plunge quite literally to save the woman he has come to love, it's clear that there will never be any turning back, and the Doctor shrewdly picks up on this dynamic change at story's end and encourages Ian to take advantage of this opportunity to avoid a potential lifetime filled with regret.
Although this nuanced approach to narration and emotion would never have occurred in the early 1960s, it helps further develop Ian as a person despite so much exploration of the character over the years. Balancing this more modern approach is the classic appearance of the Rocket Men replete with jetpacks, something that shockingly has not really been touched upon in the franchise before this. Their outfits leap to life in such a visual fashion that it's easy to imagine this villainous presence within its intended era both with classic and more modern production values. The classic good versus evil storyline as the Rocket Men seek to plunder the surprising natural resources of this world builds upon universal themes, and the Doctor's advanced knowledge as he leads an outpost of scientists in defiance against the Rocket Men and their aggression leads to a surprisingly and wholly satisfying means of resolution that again encapsulates just how much he, too, has come to care for his human companions.
'The Rocket Men' perfectly captures the remit of this audio range, exploring beloved characters in a much more intimate fashion than was allowed on television. John Dorney's prose and William Russell's delivery blend perfectly to give a subtle yet impactful exploration of Ian's motivations and thoughts, and with the stakes at their highest and most personal, a whirlwind of powerful emotion results. Aided by its clever plot structuring that director Lisa Bowerman handles ably, this is a story that meshes old and new and that should absolutely stand the test of time as one of the franchise's finest offerings in any form.