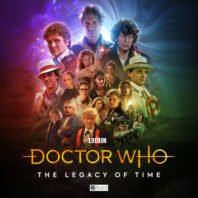 Released July 2019
SOME SPOILERS FOLLOW
When pockets of temporal instability manifest over a Dorset village, UNIT is called in, and Kate Stewart and Jo Jones suddenly find themselves thrust back through time and working alongside the Third Doctor. As Osgood works tirelessly to get them back home, they soon discover that UNIT has faced this threat before, and eyewitness reports startlingly suggest that Jo did not survive as The Legacy of Time continues in Guy Adams's 'The Sacrifice of Jo Grant.'
Jo has, of course, crossed paths with the modern iteration of UNIT before in Big Finish's UNIT: Assembled box set, and it's wonderful to see the relationships she forged there continuing on as Osgood and she share a surprising social outing at a water park. However, events quickly turn much more personal as she once more finds herself working with the man who has undoubtedly been the most important figure in her life even if she did choose to leave him for a more Earthbound crusade against life's evils and wrongs. The Doctor may not initially realise that this is his companion from forty years in the future, but he is wholly compassionate and eager to learn of everything Jo has accomplished since leaving him in his own future and is justifiably proud of just how far she has come since she first stumbled into his laboratory and ruined his experiment. The Doctor takes no credit for Jo's accomplishments and the woman she has become even as Jo insists that he was a formative figure for her, and the heartfelt discussions that beautifully detail where each has been and is going are wonderfully performed by both Tim Treloar and Katy Manning who have so quickly formed an immense chemistry that so uncannily evokes the genuine compassion and camaraderie that came to define the relationship between the Third Doctor and Jo on television. Director Ken Bentley is unafraid to slow the pacing down to allow these beloved characters to resonate to the fullest, and the result is a touching tribute to this era that Big Finish has brilliantly returned to prominence with full-cast adventures.
Of course, the temporal instabilities and the resulting potential for an extinction event provide the impetus for this most welcome reunion, but even the Doctor's insistence that there must be an unknown guiding force exploiting Kate's implicit trust in Osgood who has quite brilliantly found a way to communicate across time and impressed even the Doctor in the process takes a secondary role to the characters themselves. This is something of a bold decision in an interlinked box set with such a short period of time dedicated to each era, but the tantalizing clues afforded of a much bigger issue in play are intertwined perfectly to strike a fine balance with the continuing narrative never too far removed from the staggering display of emotion on display throughout. Just as Jo is reunited with such a prominent figure, so, too, is Kate as she tries to avoid meeting and revealing her identity to the Doctor and more importantly Brigadier Lethbridge-Stewart himself. She can only hide behind the auspicious claims of being in charge of UNIT in the future for so long, however, and she eventually succumbs to the desire to call the man whose actions and legacy continue to have such a profound impact on so many people. Jemma Redgrave isn't always afforded the opportunity to explore the more vulnerable and emotional side of her authoritative and decisive Kate Stewart, but she absolutely excels with a truly touching performance in this scene that Jon Culshaw as an unaware Brigadier perfectly complements.
Despite his technological expertise, the Third Doctor is more of a supporting character in what would normally be classified as a UNIT story, but 'The Sacrifice of Jo Grant' could not have provided a better blending of UNIT eras nor testament to the greatness of the people with whom the Doctor chooses to associate. All too often celebratory releases tend to focus on spectacle over character, but this is a story that proves that the exact opposite can be even more engaging by placing nostalgia, hope, and selflessness always at the forefront. The plot itself is quite light, but this is one of the finest examples of what Big Finish can manage to achieve with classic and newer characters alike outshining the intriguing science fiction elements at its core.