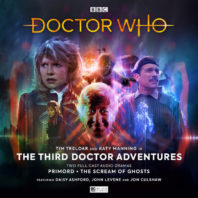 Released May 2019
SOME SPOILERS FOLLOW
Following a stunning beginning to the fifth volume of The Third Doctor Adventures that proved that the Brigadier and Liz Shaw still have so much to offer in a convincing and satisfying manner, Guy Adams's 'The Scream of Ghosts' takes the next logical step in further developing this beloved era on audio by expanding upon the UNIT family with the return of John Levene to the role of Sergeant Benton following his one-off appearances in The Companion Chronicles and UNIT. As the Brigadier and Jo look into a breakthrough in the field of mobile communications while Benton approaches the Doctor with a most peculiar story about an old friend, the Doctor realises that the strange signal coming through the TARDIS that has burned out the console circuits just might not be an isolated concern.
The Third Doctor era, especially because of its more Earthbound settings and threats, excelled in crafting a certain psychological horror accentuated by incredible visuals that struck home the prospect that danger could literally manifest at any point in any location, and 'The Scream of Ghosts' captures that spirit wonderfully with a tone that becomes all the more sinister as the layers behind the terrifying sounds in the woods of the English countryside that can be heard but not recorded are slowly peeled away and revealed. Stark and evocative imagery abounds from beginning to end, and the uneasy tension and sense of trepidation offer strong support to the latest nefarious threat to humanity and beyond.
This is a time when radio is still king and telegrams are still a natural means of communication over great distances, and the prospect of a mobile telephonic device is one met with skepticism despite the obvious conveniences everyone knows it would allow. Yet precisely because of that mindset in those around her and the grueling years of work she has put in without substantial results until suddenly finding a frequency that allows her system to work, Caldicott is understandably somewhat brusque and arrogant when UNIT is sent to check in and she quickly faces questioning claims that her unprecedented success might not be down to her own work. This is a role that could have easily been written and portrayed as a one-note foil with no purpose other than to introduce the plot and obstruct investigations, but Adams's writing and Rosalyn Landor's performance imbue this intelligent and empowered woman with a shrewd cunning and nuanced compassion that allow for an engaging arc to unfold as she must confront the difficult truth.
Given the importance of sound and communication in this story, it's perhaps no surprise that the Vardans are the featured threat, a fact that the cast listing also reveals. Adams himself voices the beings of pure energy who can act telepathically to quench their intense desire for data, and he brings out a truly sinister and threatening edge to this particular encounter as an increasing number of people are used as pawns to further their ultimate agenda. The Vardans haven't always been portrayed as the most evil or intelligent race, but 'The Screams of Ghosts' shows their truly frightening power while providing a very personal reason for the Doctor to ensure they cannot be allowed to succeed. A seemingly simple solution proves to be anything but, and the strong direction and stunning sound design provide a cohesive, authentic, and engrossing experience from the opening theme to the conclusion that provides such a seamless segue into the closing theme that is sure to stick with listeners for some time.
The Third Doctor Adventures has always excelled with its strong central and supporting performances and characterisation, and 'The Scream of Ghosts' certainly continues that trend. Tim Treloar once more captures the Third Doctor's fierce bravery and sense of morality, and Katy Manning excitedly grabs the opportunity to highlight just how resourceful and capable Jo is in one of the character's most crucial and satisfying outings yet. With Jon Culshaw for the second consecutive story brilliantly capturing the bravado and humility of the Brigadier as he tries his best to cope with threats that go beyond his training and mindset and with John Levene providing a personal touch that further humanises the beloved Benton while also proving his mettle and sincerity, the UNIT family of this time wondrously comes to life again with their strong interpersonal relationships and opens up so many potential storytelling avenues going forward.
This is a range that has admirably achieved its purpose over and over again through four volumes, but this fifth volume is arguably its most important yet simply because of the risks that Big Finish has been willing to take with recasting and the obvious rewards that have already resulted. Both 'Primord' and 'The Scream of Ghosts' will unquestionably stand the test of time on their own merit, but what they represent for the future of the Third Doctor on audio is all the more important for their legacy.