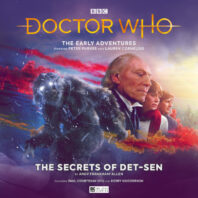 Released August 2021
SOME SPOILERS FOLLOW
Joining a pilgrimage to the nearby Det-Sen monastery after landing in the Himalayas, the Doctor, Steven, and Dodo soon discover that as everything is not as it seems in Andy Frankham-Allen's 'The Secrets of Det-Sen.' They are about to set off a chain of events that will follow the Doctor throughout his many incarnations, and events quickly become more ominous as the monastery's secrets slowly come to light.
With its evocative setting and Yeti creatures, 'The Abominable Snowman' is deservedly and fondly renowned despite is visual component being lost. In this prequel that explains how the Second Doctor would come to be in possession of the holy ghanta at the start of that serial, Frankham-Allen expertly taps into that same atmosphere and tonality to allow a meditative and contemplative mood to bolster the intensifying intrigue and danger. Wisely, the principles and teachings of Buddhism also feature quite prominently and with due respect, and the comparisons and contrasts between this religion and the Doctor's own philosophy add an additional depth to the script that is only further intensified by the knowledge of the Doctor's own impending regeneration. No concept is laughed off or disregarded, and individual beliefs are discussed and considered dutifully and almost reverentially as different situations arise, making for a very organic and open experience that never feels forced or overbearing. And while the threat that the bandits pose never truly amounts to anything memorable, the political turmoil of the time and region that this very human threat in some respects represents further expands upon this unique setting to make it all the more vibrant and dynamic.
Without question, Peter Purves has proven himself time and time again to be one of the strongest performers and narrators to breathe life into the First Doctor era, and he absolutely excels once again in 'The Secrets of Det-Sen.' He easily brings forth the pride, compassion, conviction, and intelligence of Steven both in the more traditionally heroic and slightly more emotional and intimate moments, and this along with his brilliant narration and loving interpretation of William Hartnell create a layered and dynamic experience that gives the impression of a far larger cast being present. And while Purves is in no way upstaged, this story also marks the debut of Lauren Cornelius as the recast Dodo Chaplet. Dodo remains one of the least-explored companions in Doctor Who's long history, but Cornelius gives a spirited performance that plays up kindness and the loneliness of the character who is still trying to find herself as she tries to find her position aboard the TARDIS with her new friends. This story is fairly early on in Dodo's tenure, and she already senses that Steven may be ready to put traveling behind him, and hopefully Cornelius is allowed to further expand upon this companion given the incredible energy and excitement she brings to the role here.
Whether listening to this story with the knowledge of what Det-Sen and the Yeti will come to represent for the Doctor or coming into it wholly naïve, 'The Secrets of Det-Sen' is an evocative story that flawlessly writes its core cast and that utilizes a strong soundscape to perfectly immerse it within its intended era and setting. With the complex Oddiyāna, the beguiling Pema, and the menacing Norbu all written and performed with good characterization and depth, 'The Secrets of Det-Sen' aptly overcomes a mild overreliance on dialogue and its relatively weak threat that nonetheless provides a suitably climactic battle to provide a most welcome step back into this world that capably sets the scene for the Doctor's adventures yet to come.