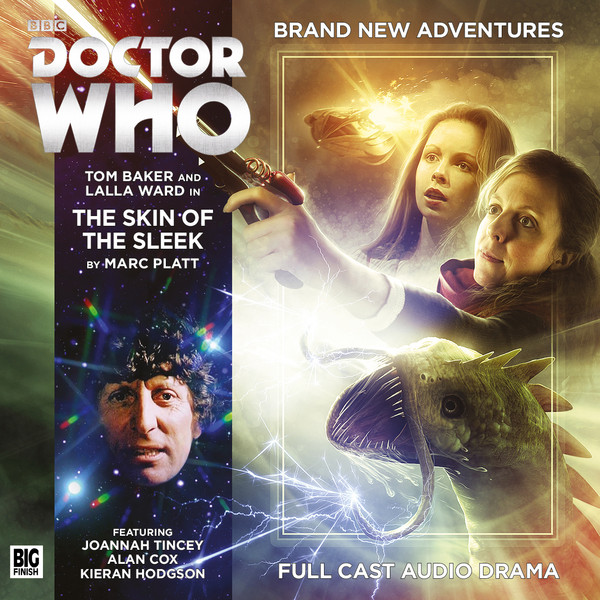 Released August 2017
SOME SPOILERS FOLLOW
The sixth series of The Fourth Doctor Adventures begins its two-part finale with Marc Platt's 'The Skin of the Sleek,' a story that very much serves as the expository piece for what promises to be a bombastic finale. When the Doctor and Romana lose the TARDIS to the depths of the planet Funderell where the ground cannot hold stationary objects, they find themselves in desperate need of help. Yet as a new group with its own agenda encroaches on the native Wavewalkers' territory, the long-hidden secrets of Funderell quickly surface.
The character of Romana has been extensively examined in Big Finish's own Gallifrey range, but her time before joining the Doctor has remained relatively unexplored in Doctor Who itself. Although 'The Skin of the Sleek' doesn't attempt to take it upon itself to totally shake the foundation of the character, it is nonetheless very satisfying to hear small tidbits about her time in the Academy and the uncertainty her departure caused when she comes upon her old friend, Sartia. Joannah Tinsey delivers an engaging performance as this friendly rival from Romana's past, and she and Lalla Ward have an immense chemistry and deliver plenty of nuance that lends a tremendous amount of weight to their conversations and recollections. It's impossible to know if Sartia will be a one-off character at this point, but she certainly makes an initial impact and has an intriguing enough personality to become a welcome recurring character.
Naturally, Sartia has a hidden agenda that even her crewmates are not fully aware of, and this brings the true history of Funderell itself squarely into question. When Romana finds that the spiritual Book of Futures is written in Ancient High Gallifreyan and the Doctor discovers that Sartia is in possession of Gallifreyan text declaring that Funderell has been out of bounds for forty-six millennia on pain of memory wipe, dispersal, or a fate even worse, it's clear that a fundamental truth about this world and its singular populated village of hunters has been lost to time, one that Sartia intends to uncover. But as this planet's serpentine god is accidentally killed in the process, the past and present are set on a direct collision course that is sure to test everyone involved.
The amount of exposition 'The Skin of the Sleek' manages to deliver is impressive, creating a developed planet, native culture, and external force anchored by a new character known to Romana that ties into her own backstory. Platt also manages to avoid an endless stream of simple dialogue while developing the atmosphere and depth, utilizing a propensity for divinity and forecasting the future as well as personal reports and logs to vary the means by which information is conveyed. At the same time, there is plenty of action as the Doctor and Romana quickly become separated, and the balance between freneticism and thoughtfulness is quite well crafted with only a few moments of slightly lagging pace.
As usual, the entire production team gives full effort, and the direction and sound design amplify the performances and script wondrously. A first part of a story is naturally linked to its conclusion, but by itself 'The Skin of the Sleek' is a fantastic exercise in world-building and atmosphere that sets the scene perfectly for what is to come. With Romana taking the lead and Funderell's exact ties to the Time Lords yet to be discovered, 'The Thief Who Stole Time' is positioned to be an incredible true finale.