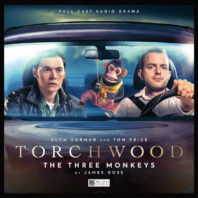 Released October 2020
SOME SPOILERS FOLLOW
With COVID-19 and the need to produce every aspect of a production in isolation proving to be no hindrance to Big Finish, James Goss's 'The Three Monkeys' virtually reunites the unexpected pairing of Owen and Andy for their third outing in Torchwood's monthly range. Here, an uncannily successful businessman has attracted the attention of Andy and of Torchwood for very different reasons, and this night might be the night his luck finally runs out.
Notably, 'The Three Monkeys' features a far lighter tone and less morbid subject material than either of this pair's preceding stories, allowing a slightly different facet of the unique friendship between the ever-optimistic Andy and the ever-pessimistic Owen to manifest. It's clear that Tom Price and Burn Gorman share an immense chemistry that can transcend the vast distances of remote recording, and the range of emotions each displays as Andy must revisit a very personal tie to his past and to Torchwood while Owen's own nihilism suggests it has no bounds comes together perfectly to further expand just where each character is at this particular point in Torchwood's continuity. Indeed, it's Andy's ability to look past the obvious potential gains of the crux of the plot that hints at just how integral to the furtive organization he will become going forward, and this continuing double act once more teases just how much storytelling potential remains between and within the televised storylines given how much each character still has to offer and to develop as a result.
'The Three Monkeys,' all things considered, is a fairly contained and intimate story, using Andy's police car as its main setting and thus proving to be the perfect narrative for this type of recording while almost subverting the need for the sound design which Iain Meadows so capably provides. The plot itself may not do anything too incredibly revolutionary, but the logical progression for the leads' actions and thoughts at all moments as well as the well-paced structure allow it to develop naturally without ever losing its focus. Likewise, the real-life influences at the heart of this script are a poignant reminder of the genuine mistakes and the resultant misguided actions and even evils that continue to pervade the world, lending a sombre note to affairs that again proves why science fiction as a genre can be such a strong allegory for the many facets of the human condition no matter how bombastic or intimate any particular storyline proves to be.
In what is essentially a two-hander with only brief appearances from two police officers to lend an extra dimension of depth and scope to this very isolated affair, 'The Three Monkeys' unquestionably makes the most of its two charismatic leads from their unexpected stakeout meeting to their ultimately subdued victory while continuing to develop their mutual respect. Big Finish has already proven time and time again that Torchwood is one of its standout ranges, and although this particular release might not quite reach the lofty pantheon of some preceding stories that include this fronting duo's earlier two, it's another strong and confident outing that shows that there is no sign of it slowing down any time soon.