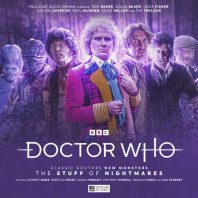 Released July 2022
SOME SPOILERS FOLLOW
After bringing back the Balhoonians to open the third set of Classic Doctors New Monsters, Big Finish brings the Tivolians into the audio medium with Robert Valentine's 'The Tivolian Who Knew Too Much.' One of the oldest and most cowardly species in the galaxy that has survived through a desire to be conquered and to appease those in control, the Tivolians are hardly the most obvious choice to anchor a story, but when the Fourth Doctor and Leela take a holiday in Rome, they find the timid Tivolian Timble Feebis has become entwined in the dangerous machinations of a notorious crime boss.
Of course, Leela is anything but timid and cowardly, and so 'The Tivolian Who Knew Too Much' instantly benefits from the fascinating and overt contrast between these characters. Big Finish has perfected its presentation of every aspect of the Fourth Doctor era over the years, and the chemistry between Tom Baker and Louise Jameson is spectacular, their infectious energy lifting each scene and brilliantly traversing the unique mix of comedy and drama that ensues as the plot involving gangsters and the destruction of Tivoli becomes known. Indeed, whereas the previous story with the Hoxx of Balhoon failed to capitalize on the advertised monstrous aspect of this box set with its new series alien, this story takes the Tivolians in a completely novel direction following their limited appearances on screen as the Tivolian Volen Steasel becomes a slave not to an outward force but to the darkness within himself. This dichotomy between Feebis and Steasel proves to be an immense success that presents a clever twist on a fairly traditional genre piece, and Robert Daws and Anthony Howell both do exceedingly well to present the distinct extremes in characterization while exploring the perils and strengths of both giving into and going against instinctual nature.
The Italian setting certainly allows for an immersive sound design and plenty of strong visuals that feature throughout but particularly during a strong set piece at the Colosseum, and the Fourth Doctor and the determined Leela are without question the perfect pairing to highlight on a vacation gone wrong as Leela's own instincts take over. However, and rightfully so, Timble Feebis is the standout of this story, and his continuing confrontations with fearful moments that require bravery and quick thinking to save those around him as well as his own planet from a deal with an invading force intending to devour rather than to enslave showcase his very best qualities while also allowing the Tivolian society as a whole to develop. Even with a few twists in Steasel's plans, 'The Tivolian Who Knew Too Much' doesn't necessarily try to be the most innovative, and that's perfectly okay in this situation when the intent is to further contextualize a race that is still so much of an unknown quantity overall. With strong characterization and a quick pacing, Valentine manages to highlight a monstrous element to a race that has been anything but to this point and creates a surprisingly engaging story that blends the two eras of Doctor Who expertly. The Tivolians remain a race that should be used in moderation, but this is a fine example of how even a determinedly passive and appeasing race can find itself at the centre of such daring intrigue.