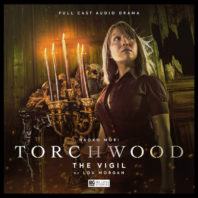 Released September 2019
SOME SPOILERS FOLLOW
With the monthly Torchwood range in 'The Vigil' turning its focus once more to Toshiko Sato, this time as a new recruit to the organisation who is still trying to find her feet and to fit in, writer Lou Morgan also introduces another member of the team who has joined at the same time, Sebastian Vaughan. Smart, capable, charming, and pedigreed, Sebastian is the prototypical team member, and now Tosh has been tasked with bringing his body home for the send-off his family tradition dictates.
Presenting an entirely new character into Torchwood mythology is no small task, but Morgan and actor Hugh Skinner bring Sebastian vividly to life in a wholly relatable manner. With little subtext about the distinct differences between privilege and merit, Sebastian is an overbearing and overconfident man who is more apt to use brawn than brains and who has clearly never had to truly earn anything in his life. He's quick to take credit whenever he's only marginally involved in a success, and he's certainly unafraid to take every available opportunity to explain his understanding to those around him. Truly, there is almost nothing redeemable about this man who refuses to listen to Tosh and the data she has been studying about the strengthening abilities of cortical leaches that have been coming through the Rift, and the dichotomy between a man who is far too sure of himself with nothing in support and a woman who is rightfully just as confident in her own abilities but who is unwilling to assert herself in the same arrogant manner at this time is realized brilliantly throughout this story. Tosh, of course, would become the no-nonsense member of Torchwood who would remain focused and do anything to get the job done, and the subtle differences and unchanging similarities here are perfectly fitting and manage to further develop this beloved team member.
Naoko Mori has, of course, perfected the character of Tosh over the years, and she seamlessly steps into this earlier iteration of her character that taps into the demurer nature that was present at the franchise's televised beginnings. 'The Vigil' allows for a brilliant study of just how differently her character could have been in different circumstances given her position, and Tosh has rarely been portrayed so strongly as here when up against the obvious shortcomings of her own partner. Even more intriguingly, however, is that the time jump to after Sebastian's demise when Tosh must accompany his body to his family's home proves just how caring Tosh is as cautiously and respectfully speaks about Sebastian to his mother who during her grief pointedly puts Queen and Country first while remaining fiercely proud of her family's history and importance. There are undoubted shades of Sebastian in his mother who Lucy Robinson plays so effectively, and the information Madeline Vaughan offers about Sebastian's upbringing and just what brought him to Torchwood help to create two fully-rounded characters in the process of uncovering the genuine threat the leaches pose to this world.
Before the release of this story, few if any likely thought it necessary to introduce a short-lived character into Torchwood at a time just prior to the televised series, but Sebastian is the perfect vehicle through which to explore the changes Tosh undergoes as a character as well as the truths that she just can't quite manage to admit to herself. The time jumps are utilized and realized to perfection throughout, and although this careful balancing act may not quite carry the weight of some of the other audio releases in this range, the strong performances, direction, and sound design help to deliver a surprising character piece that is shocking in both content and relatability.