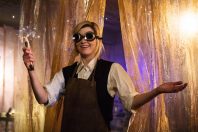 Aired 07 October 2018
SOME SPOILERS FOLLOW
Each Doctor's debut episode is understandably a heavily anticipated one as fans eagerly await to see how a new variation of the beloved character fits within the established but likewise changing dynamics of the franchise's universe and mythology. Yet the casting of Jodie Whitaker set the world alight perhaps more than ever before, a small minority of the population instantly writing her off as a stunt cast simply because of Whittaker's gender and the state of affairs in the world but the vast majority incredibly excited to see what this charismatic and powerful actress who already had such success with new showrunner Chris Chibnall in Broadchurch would bring. With only two words following Peter Capaldi's regeneration scene to tide viewers over for more than nine months until her proper debut, 'The Woman Who Fell to Earth' finally arrives to allay any concerns about this series that is set to take on more of an ensemble feel with reportedly no reliance on previous foes.
The lack of inherent continuity in this episode is by no means a bad thing as it allows each of the new team members to focus in what by necessity needs to serve as an episode to draw in casual and first-time viewers as much as the long-term fans. With not even the TARDIS featuring, the episode quickly moves past the fact that the Doctor is a woman for the first time with Whitaker instantly making an impact as the Doctor crashes through the roof of a train bound for Sheffield and quickly confronts a tentacled probe creature while explaining to new friend Yas why she should not report this incident to her police superiors or call in for reinforcement just yet. Whittaker gives a commanding performance that maintains the intrinsic quirkiness of the character even as she succumbs to moments of post-regenerative trauma as she tries to establish her identity and re-establish her memories, and the journey the Doctor takes as she builds her own sonic screwdriver and then tracks down an alien hunter she undermines by referring to him as Tim Shaw whom she learns has broken the rules of his initiation ritual is a profound one that forms a solid foundation upon which the Thirteenth Doctor can continue to develop.
Of course, this is a throwback of sorts to the original run of Doctor Who with an expanded core cast, and Tosin Cole as Ryan Sinclair presents the first entry point into this new world through a video blog in which he describes his time with the most wonderful woman in the world. Suffering from dyspraxia, this is a man who will not be defined by his troubles and who has a fierce determination to offset his vulnerability. Through Ryan's nan Grace who herself has an intensely compassionate and adventuristic streak as brilliantly played by Sharon D Clarke, viewers are introduced to her second husband, Bradley Walsh's Graham O'Brien, a more reluctant man grounded in reality who is stern but nonetheless never veers into unsympathetic territory. That he is in remission from cancer gives a unique angle and outlook for this character, and the dramatic fate of Grace who was his nurse and quickly became the heart of this episode as well as his life as the team ultimately proves victorious is sure to weigh on him especially in future stories. Lastly is Ryan's former classmate, Yasmin Khan played by Mandip Gill, and though her authority as a probationary police officer is naturally undercut by the Doctor's presence, she represents a viewpoint outside of Ryan's family unit and proves to be exceedingly capable and congenial in remarkably short order. There, of course, is plenty of room for further development for all of these characters going forward, but the script and performances have managed to achieve an incredible amount already, firmly establishing the foundation for the programme's new dynamic.
Through both small and seemingly inconsequential moments as well as the more bombastic moments, characterisation is key to 'The Woman Who Fell to Earth,' but that does mean that the actual plot itself is somewhat more throwaway in nature. In fact, the alien brings with it far too many questions that seem vital to understanding him that are left unanswered, and just why the DNA bombs are not exploded straight away to prevent any witnesses and just how he came to Earth without permission are glaring omissions from his narrative. Likewise, he suggests that his victims are not actually dead, but the Doctor lets this statement pass without considering that there may be a chance at saving them. Still, premiere episodes are notoriously difficult to perfect due to the incredible amount they have to achieve, and it's a testament to all involved- including new composer Segun Akinola and director Jamie Childs- that this well-paced and visually impressive undertaking that introduces so many new characters succeeds so well, setting the bar high for what looks to be a bold evolution for the series.