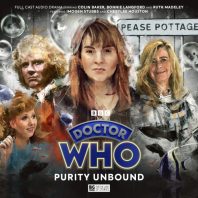 Released August 2023
SOME SPOILERS FOLLOW
In Robert Valentine's 'The Wrong Side of History,' Purity's storyline reaches its end. Returning to twenty-sixth century Sheffield where Patricia McBride first saw a vibrant and inclusive future that was so against her own bigoted beliefs, Mel, Hebe, and Elise find themselves in a plastic bubble-city patrolled by robotic purifier police where even fresh air is considered too impure. Purity rules from high above, and she has plans to use the Doctor to finally make her all-encompassing vision of pure perfection reality.
Valentine wrote 'The Chronomancer' from earlier in this saga that provided the memorable Sheffield setting that opened McBride's eyes to the future and allowed her the means of melding history in her image, and returning to this scene is a masterstroke to truly show just how much things have changed since Purity began wreaking havoc on the timelines. It's perhaps unsurprising, then, that this story also sees the return of the Chronomancers and of the time criminal Havash Khavûl, the latter of whom is joined here by Silkreth as they escape imprisonment and fully exert their own malign influence over this locale. Khavûl and Silkreth are pure evil through and through with their mutual love their only redeeming and humanizing element, and even with this altered Sheffield as a backdrop, Khavûl finding such success here as he boldly seeks to stake his claim throughout the universe and time is an intriguing alternative narrative to what was shown before that highlights the dangerous threat posed while also allowing Matthew Brenher and Victoria Jeffrey to truly accentuate the single-minded hatred of their characters.
With Purity's expansive influence extended and accentuated by alien technology so far in the future, its consciousness continues its pursuit of utter perfection. To his credit, the Doctor has never completely given up on McBride, and while there is no happy or fully redemptive ending for her here after everything she has changed for the worse, the Doctor is able to achieve at least a degree of connection to the acquaintance he once knew whose beliefs he tried so valiantly to expand. Likely by design, this arc has never done much to fully develop McBride as anything besides a narrow-minded and unaccepting individual, and so it would not have rung true to do much more with the character here, but having at least some sort of delineation between McBride and Purity here is a subtle nuance that offers her a small chance to react to how events have spiraled and to perform one final act of contrition. The Doctor is perhaps a bit too trusting from the start, but both Colin Baker and Imogen Stubbs share a strong chemistry during these scenes that simultaneously more than emphasize Purity's unflinching dedication to achieving perfection by any means necessary.
Bonnie Langford, Ruth Madeley, and Cherylee Houston all give strong performances as well while this version of Sheffield is developed, but there simply is not enough time for any meaningful character exploration or defining moments due to the many characters and plotlines that need to be addressed. Unfortunately, while the return of the Chronomancers is natural given Valentine's past contribution to the range, bringing them into the storyline so late to act as saviours quite significantly undermines the danger and drama that had been created to that point. While the Doctor is responsible for their arrival, having the expanded roster of lead characters more or less severed from the resolution is something of a disappointment that continues on from the somewhat odd choice of having Khavûl and Silkreth steal so much of the villainous spotlight from Purity who has been built up as the one true evil of this set for so long. As a whole, the Purity storyline has been filled with narrative decisions that have taken away from a sense of unity and focus, and so 'The Wrong Side of Time' is consistent in that regard.  Additionally, even if the inclusion of Evelyn's influence is not quite as poignant as in 'Girl in a Bubble,' the tribute to the beloved character is once more appreciated, and 'The Wrong Side of Time' as a singular story is perfectly serviceable in every sense; however, it would have worked much better as a direct continuation of 'The Chronomancer' without quite so many stories in between to dilute its and McBride's overall impact. Nonetheless, it likely does the best possible at providing some sort of cohesive resolution to events given the incredibly uneven and tortuous pathway taken in this saga that held so much potential but that has thankfully reached its end.