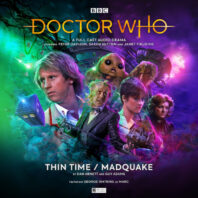 Released August 2020
SOME SPOILERS FOLLOW
Two-part, double-bill releases have become increasingly common in Big Finish's Doctor Who monthly range in recent years, allowing for the often-quicker storytelling stylings of the modern television series and the company's many other audio ranges to intersect with the classic era. At the end of the Fifth Doctor's previous trilogy, he had left behind Nyssa, Tegan, and Marc in order to spare them from the danger he so often finds and courts, and 'Thin Time' and 'Madquake' look to pick up that storyline with the Doctor and the companions respectively in focus.
In Dan Abnett's 'Thin Time' set on Halloween in 1892, famed writer Charles Crookshap reveals that he has been receiving messages from his future self in his dreams, an idea he had for his stories made real that he is sure he can use to create a better world. Yet when the Doctor arrives and finds that even his changing appearance appears to be known as a beacon of the future to come, he quickly finds that he is not the only alien interloper in London on this night. With the barrier of time itself precariously thin as dreams and reality threaten to become one, the atmospheric and claustrophobic house comes to life as a character in its own right as the details that Crookshap has followed to a tee become vitally important to a surprising journey of horror and self-evaluation that plays out on many different levels. Naturally, the Doctor is destined to help out in any scenario in which he finds himself, but this intimate environment and the close relationships he is quickly able to form with those around him are exactly the refresher that he needs in this situation where he feels he must be so distant, and Wilf Scolding, Luyanda Unati Lewis-Nyawo, and Nicholas Khan all perform admirably alongside Peter Davison's more vulnerable and open Doctor to make this tale that admittedly takes quite a bit of time to actually get out of its repetitive exposition all the more enthralling and personal. Quite brilliantly, 'Thin Time' also makes full use of the fact that the Doctor at another point in his life chose this same period for seclusion and retirement, and the resulting scene featuring a man finding himself in a sadly familiar situation twice over is a surprising and genuinely emotional one that poignantly sums up the character of the Doctor and the internal turmoil he must always carry with him.
Guy Adams continues the story of the abandoned companions on the planet Callanna in 'Madquake.' As the story's cover art advertises, this is a tale that takes advantage of the Doctor's absence to feature the Slitheen from the modern series without disrupting established continuity, here as they attempt to make a profit off of this world's therapeutic atmosphere and the planet itself. The Slitheen are a unique presence in the Doctor Who universe, of course, their unabashedly self-serving and evil ways mixing with a more overt sense of outlandishness and comedy. However, while these elements are featured quite successfully alongside one member of the family going against the others as differences are explored and reconciled, the Slitheen very much fill a secondary role as the mindsets of the companions at this particular moment come to the forefront. Despite being the newest addition to the team, Marc is unquestionably the most damaged following the events of 'Conversion,' and George Watkins brilliantly brings to life this man who has physically lost his humanity and ability to be happy. Marc believes himself to be a monster and is even afraid to go to sleep because of it, and his seeming inability to connect with those around him as he is unwillingly subjected to a passively therapeutic influence is a genuine highlight. Likewise, following her own experiences with the Mara, Tegan is understandably wary of the influence this world holds, and her questioning what is left when even anger can be influenced is a poignant moment that expertly complements the truly caring and well-intentioned aspects of the character. Nyssa isn't quite afforded the same level of emotional openness and introspection as her friends, but she certainly gets to show off a more assertive side as her own frustrations with the Doctor and her situation manifests, and both Janet Fielding and Sarah Sutton are once more brilliant in these roles. Both of these stories feature uniformly excellent writing, acting, directing, and sound design, and both highlight the emotional states and inner thoughts of these characters as well as the potential path to approaching reparations that will hopefully be explored in future releases as this monthly range begins to draw to a close.