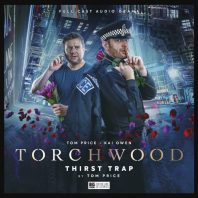 Released March 2023
SOME SPOILERS FOLLOW
No character from the original Torchwood run has been better explored and developed in the audio medium than Andy Davidson, Tom Price turning his well-intentioned, determined, and innocent supporting character into a dynamic lead who- though perhaps not always fearlessly- is capable of directly confronting any situation. With 'Thirst Trap,' Price also makes his Big Finish writing debut, highlighting a Cardiff obsessed with the Now or Never app that gives users exactly twenty minutes to find their perfect mate before making them part, never to see each other again unless the app again matches them later. But when the users all start going on the same date filled with the same conversations and meals, it's clear that something is very wrong, and Andy must try to look past apparent love to help put things right.
Speed dating, of course, is nothing new, and it only makes sense that there would be an app to capitalize on the phenomenon of finding love at first sight. Now or Never as a premise doesn't quite make sense, however, since it's reported that not leaving the date within the allotted time will result in being locked out of the app forever with other phone data also being erased. While there are probably ways around this like handwriting phone numbers and meeting again with phones turned off, this does at face value seem like an egregious breech of privacy; it also seems unlikely that the entire population would be able and willing to subject itself to the whims of an app telling people at any given moment to meet up while that same app then somehow decides if two people later get to reconnect without any human input or insight.
Nonetheless, Now or Never perfectly symbolizes the eagerness of people looking for love and the sometimes ridiculous hooks that dating apps have to set them apart from rivals, and despite a questionable philosophy, this app and its effects perfectly set the scene for an audaciously humorous tale. Tom Price, of course, knows every single facet of his character, but putting Andy into the unfamiliar realm of dating while increasingly under the influence of the app allows him to accentuate innocence, persistence, and fortitude in equal measure. Naturally, his date with Anna is a particular highlight, and Rebecca Trehearn perfectly presents a woman who in many ways is so very opposite of Andy, her by-the-book and meticulous mentality contrasting wonderfully with the laid-back and more free-wheeling nature of Andy. And while passing remarks about dogs and walks seem like parts of innocuous small talk, the echoes later on begin to highlight the pervasive power of this app to add an element of unease to a script that otherwise wholly successfully relies on the absurdity of its plot and the resulting humour. While Anna's ridealong with Andy is a definite highlight, 'Thirst Trap' truly shows its brash confidence when Andy and Rhys together succumb to the influence of the app, and Kai Owen with Price are absolutely fantastic together as their characters together try to uncover the truth and nearly risk it all in the process.
The plot is suspect and the resolution deliberately simple, and yet 'Thirst Trap' is an incredibly entertaining story from beginning to end that makes expert use of Andy and Rhys while also making its supporting characters more than simple stereotypes. There is genuine emotion instilled into the humour, and the very genuine Andy is the perfect character to be surrounded by this absurdity; while it doesn't meaningfully delve into characterization or any overarching plot, 'Thirst Trap' is a strong writing debut for Price that highlights his grasp on humour, humanity, and Torchwood.