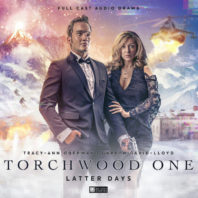 Released September 2019
SOME SPOILERS FOLLOW
Returning for a third series, Big Finish's Torchwood One delivers three new stories with retirement as their central narrative link in Latter Days.
Writer and actor Gareth David-Lloyd opens Latter Days with 'Retirement Plan' as Tommy asks Ianto to help him prepare for his post-Torchwood life. Naturally, these plans are not quite as simple as ensuring paperwork is in order and that Tommy's duties and responsibilities are known and understood for others to assume upon his departure, and the head of alien acquisitions reveals that he has furtively made the most of his position by co-opting a piece of alien technology to create a virtual haven which Ianto demands to see before forging any sort of agreement. What follows- under Tommy's constant reminders that this place is a work in progress- is a most unexpected romp that sees Ianto finally live the life he has always dreamed with homages to James Bond and Knight Rider liberally guiding an audacious narrative that allows regulars David-Lloyd and Tracy-Ann Oberman to play very different versions of their characters than usual, Oberman in particular leaving a mark with several dramatic departures that show an impressive range and commitment.
While the humour is at times purposefully over the top, David-Lloyd is able to expertly interweave genuine pathos and emotion into events to maintain a sense of reality and gravity, and Tim Bentinck is absolutely marvelous as Tommy drops all pretenses and expressively opens up about his previous struggles to balance the secrets and mistrust of Torchwood with the openness and trust of marriage. Although Torchwood One is very much the story of Ianto and Yvonne, the smaller supporting cast that has already been introduced is certainly more than capable of anchoring stories with Ianto and Yvonne in more supportive roles; accordingly, while 'Retirement Plan' and its central premise that many franchises attempt to put a spin on with its characters in unfamiliar roles may not be exactly the opener many might expect for this set, it successfully highlights the versatility and expansiveness that this range can produce even as Torchwood One's days approach their inevitable end.
With a mysterious force wiping out London, Matt Fitton's 'Locker 15' shifts the focus to a former Torchwood cleaner whose dementia threatens the only source of information about what sits within the titular container that nobody else has since been able to open. As the Torchwood One members undertake elaborate pretenses to both gain Dave's confidence to spur his memories as Dave re-enters the world he has forgotten, there's little subtlety in the commentary on corporate structure and certain professions that inherently yield less memorable days. In a story filled with strong performances, Derek Griffiths gives arguably the most profound as a man struggling both to remember his past and to retain a sense of self while coming to terms with what he has seemingly lost. Aided by an easy chemistry amongst all of the performers, the interspersed flashbacks that reveal Dave's working relationships or lack thereof at Torchwood create an even more empathetic and relatable character, and the secret within Locker 15 that only he can unlock is a fitting testament to the innate secrecy that everyone at every level within this organisation holds.
As truths are slowly revealed, 'Locker 15' becomes all the more effective by showing just how truly determined and ruthless Yvonne can be when confronted with a mistake made under her own watch. The story as a whole may not carry quite as much weight as some others despite the genuine danger presented, but the menace Oberman imbues into Yvonne here is powerful and palpable, further giving credence to the iron-fisted reputation she holds at this time. In many ways a more traditional story than the opener, 'Locker 15' nonetheless takes an unexpected approach to explore retirement from the other direction and to offer a dark and surprising tale that never forgets or shortchanges the genuine emotion of its characters and conditions. This story and Yvonne's emphatic actions to reconcile her past and her present are certainly not ones that the more optimistic stylings of Doctor Who would tackle, and Torchwood One capably steps in to explore the darker and more grounded aspects of humanity to strong effect.
Whereas one might expect the concluding story of a set to be the most bombastic, Tim Foley's 'The Rockery' instead offers one of the most intimate character pieces under the Torchwood banner as Yvonne tries to reconnect with her mother in retirement. Ostensibly using pre-existing stipulations for her mother's pension to give her an alien plant to tend to in her new home, Yvonne triggers a profound internal exploration of grief, depression, and anger that the plant ends up mirroring to spectacular effect. Anne and Yvonne are so much alike and so unwilling to open up even to each other that what remains unspoken is often more powerful than what is, and the uneasy tension between the two that results affords a fascinating insight into the relationship that has clearly been so affected by the passing of Yvonne's father some four years ago. Both are stubborn and unyielding in their ways, and Anne's desire to hide away and remain isolated from the world provides a unique counterpoint to just how driven and engulfed by Torchwood Yvonne allows herself to be, making the middle ground and openness the two eventually reach as the army of ghosts encroaches upon the world wholly satisfying and resounding and all the more poignant by the inevitable fate Yvonne will soon meet.
Intriguingly, 'The Rockery' is also one of the few stories in which a prominent guest character is exactly what he appears, and the genuine amiability and graciousness that drives Anne's neighbour William is a stark reminder of just how different life outside the realms of Torchwood can be while providing hope that not all is lost in the world. Michael Maloney exudes warmth and compassion throughout, and this man who even has a second favourite spade for gardening is exactly the steadfast voice of support that Anne and Yvonne need even if neither will admit it. In what is essentially a three-hander, each of the performances is pitch perfect throughout, and the sheer range of emotions on display is handled deftly with Anne's progression both heartwarming and heartbreaking in equal measure. As yet another firm reminder of just how grounded and emotionally poignant Torchwood can be, 'The Rockery' is an unexpected tale that absolutely capitalizes upon the unique potential of Yvonne within a familial setting to deliver one of the most memorable outings for this range yet.
Latter Days is something wholly different from its Torchwood One predecessors, but by bringing supporting and completely new characters to the forefront, it exemplifies just how much potential this range has going forward. Those looking for a distinct progression with the working relationship between Ianto and Yvonne may be disappointed, but the unique filters through which their actions are presented here are every bit as exciting and make the most of this set's central retirement theme as the days of Torchwood One dwindle.