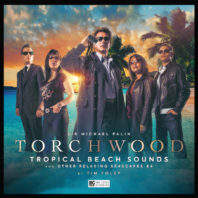 Released April 2020
SOME SPOILERS FOLLOW
Much like its parent franchise, Torchwood has never shied away from experimenting with both its format and its subject material, routinely offering unique perspectives to explore ideas both familiar and not. With the astoundingly-titled 'Tropical Beach Sounds and Other Relaxing Seascapes #4,' writer Tim Foley offers perhaps Big Finish's most innovative and experimental take on an invasion yet as the power of self-help tapes takes on an entirely new meaning.
Naturally, the vocal stylings of Sir Michael Palin will be this release's biggest selling point, and his journey through second-person narration more than capitalizes on this unique premise that by itself is more than worth the price of admission. Always gentle and measured in his delivery but able to seamlessly imbue powerful aggression and menace as needed, Palin effortlessly carries his listeners from the typical introspective and positively reinforced tones and repetitions of self-help offerings to a darkly chilling adventure told through Captain Jack Harkness and more that is wholly befitting of the Torchwood banner. Indeed, in a story voiced solely by Palin, it's incredible just how well Foley and he have captured the spirit and characteristics of the core Torchwood cast through vignettes of brief encounters and incapacitations that highlight the truly unexpected danger of this unassuming voice, and the resulting visuals are both vivid and visceral to complete the experience.
Given the absurdity of this plot that manages to resonate so profoundly, it's perhaps unsurprising that Foley crafts his incursion to mirror the traditional multi-step progression of self-help narratives. The use of the second-person perspective throughout also ensures that the audience's attention never falters, an impressive and essential accomplishment given just how much detail is packed into the script and how easily this setup might otherwise let listeners temporarily drift away from the action. This is also due in no small part to the incredible sound design and music that together become the de facto co-star beside Palin's dulcet but layered intonations. As the tone and story become ever more horrific and eerie, the soundscape never fails to intensify the underlying nuance and atmosphere to evoke the most of the intended emotions.
'Tropical Beach Sounds and Other Relaxing Seascapes #4' is an incredibly difficult release to discuss without fully divulging the many intricacies and true delights that fill its allotted running time. Suffice it to say, this incredible monologue offers plenty of truly memorable vocal clips that will stay with listeners far after the end credits roll, and this script that truly becomes an immersive experience unlike anything Big Finish has previously offered will assuredly remain atop fans' lists of most notable instalments for any franchise. An experiment like this is either destined for greatness or doomed to fail to live up to its full potential, but this is unequivocally in the former category and proves just how genuinely versatile the audio medium remains for breathing an entirely new life into a franchise that seemingly reinvents and reinvigorates itself on a routine basis. Sir Michael Palin has an incredible talent that has been honed through decades of service to entertainment, and this most unexpected pairing works on every level from the very start to deliver a wholly surreal but totally engrossing experience.