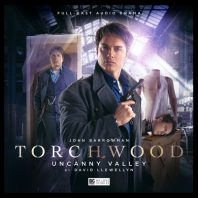 Released January 2016
SOME SPOILERS FOLLOW
Two years ago, billionaire Neil Redmond was in a terrible accident, his recovery a difficult and prolonged one. Now, though, he's back and looking better than ever as he continues to come out of his long seclusion in David Llewellyn's 'Uncanny Valley,' a remarkable transformation that reeks of the dark forces that Captain Jack Harkness has been hunting for so long.
There's never been a mystery that Jack Harkness has shied away from, and uncovering the secret behind Redmond's miraculous recovery leads him on a dangerous path littered with dead bodies to uncover just how one man can be in two places at once. 'Uncanny Valley' is rife with corporate intrigue, weakness, love, and vanity, reigning in the gratuitous extremes of adult content that the early televised episodes of Torchwood employed to deliver a remarkably nuanced and poignant character piece that incorporates incredibly adult content with finesse to great effect. This is a story that could absolutely not be told under the Doctor Who banner, and it becomes quite uncomfortable in a narratively satisfying manner as the limits of identity and social norms are tested and these very intimate events unfolding through flashback and conversation are revealed.
In a bold choice given that this is only the fifth release in the range and only the second to feature the beloved Jack Harkness, the majority of this story unfolds with Jack simply listening to Neil. There's nothing intrinsically wrong with this setup, especially as Jack comes to foil yet another of the Committee's schemes along the way, but those listeners understandably looking for a Torchwood protagonist to take charge from the start will be disappointed. Of course, the series of events that led to Neil coming into possession of his perfect duplicate who is funnier and more charismatic that he is to live his life while he remains confined to a wheelchair opens up all sorts of internal moral quandaries, and Neil quickly becomes obsessed with the notion of watching the nicknamed NJ's every move- professional and personal- to live vicariously through this artificial being by experiencing every feeling except touch. Inevitably, Neil becomes jealous of NJ and must confront his true feelings about himself, NJ, and just what each represents to the other when taking NJ's true lack of emotions into account. This relationship becomes one of the most complex that Big Finish has ever attempted, and the addition of Jack to the mix only makes the inevitable confrontation all the more complicated while the very best and worst of humanity as filtered through a handicapped man, an immortal man, and an immortal artifical being feature in short order.
As expected given his superb performance in 'The Committee,' John Barrowman gives a well-executed and emotional performance as a determined and understanding Jack who still can't help but give into his more sordid desires when confronted with the prospect of perfection with no strings attached before achieving his ultimate aim. In the long run, however, it's Steven Cree who very much steals the show with an incredible double performances as Neil and NJ, and not just because he commands the vast majority of the story's running time. Cree commits to the material completely, and he's unafraid of delving into the creepier aspects of his character's journey that most stories would not even dare suggest. 'Uncanny Valley' quickly becomes one of the most impressive character pieces in the long and varied history of Doctor Who and its spinoffs, and its brave and uncomfortable storytelling highlights the true potential of this range, the only shortcoming being the relative sidelining of Torchwood and the focal Captain Jack in order to feature a new and presumably one-off character so incredibly prominently in a storyy that continues the Committee plotline but doesn't necessarily advance it all too meaningfully.