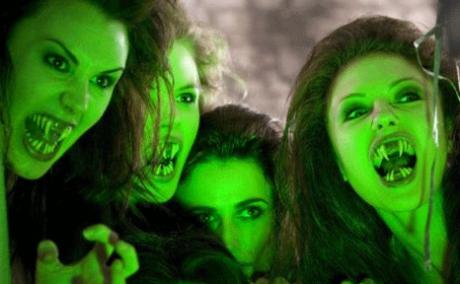 Aired 8 May 2010
As one of the mortal foes of the Time Lords going back to the times of old, vampires have quite the mythology in Doctor Who. And while 'The Vampires of Venice' decides to veer away from the burden of the past with its creatures, writer Toby Whithouse still manages to deliver an enjoyable standalone tale that further develops some of the story arcs that have become so key to this series.
Most importantly, though, this episode brings Amy boyfriend Rory Williams to the forefront, his first chance to really make an impression even after his brief appearance back in 'The Eleventh Hour.' Fortunately, Arthur Darvill does a fantastic job with the character, instantly showing a shrewd intelligence that recent companions' family and friends often have not. The introduction to Rory at his stag party as the Doctor obliviously admits to kissing Amy is good for a bit of comedy at the beginning, but that quickly gives way to some uneasy tension and results in the Doctor offering Amy and he a trip to 1580 Venice as a gift for their impending nuptials.
Of course, Venice in this time period turns out to be a hotbed for trouble, and the Doctor and company quickly find themselves entrenched in the mystery and the goings-on at Rosanna Calvierri's school for young women, a school where it seems as though the women are being turned into vampires. As it turns out, the waters of Venice house thousands of hungry males longing to be fed. Even if Calvierri's son ends up being a bit poorly written, Calvierri herself turns out be a very well-rounded and engaging antagonist, motivated solely to save her dying Saturnyn race- unfortunately not actually vampires- no matter the consequences.
Arguably the most successful aspect of the story, however, is its connections both to the past and to the broader picture. Just seeing William Hartnell's picture on the Doctor's library card is enough to induce a warm sense of nostalgia, but Matt Smith also does a fantastic job in portraying a sense of added weight when Rory- seeing how Amy acts in front of the Doctor- boldly proclaims that he acts in a manner solely to inspire people to impress him with their own actions. This is a shockingly deep and intuitive observation from a newcomer and clearly strikes a chord with the Doctor.
Of course, the Doctor is never going to stand for the events going on and duly puts an end to it through a very heroic moment that hearkens back to some of David Tennant's vertical stunts, but the end result is Calvierri blaming the Doctor for the ending of yet another race. Matt Smith's Doctor has already proven to be sometimes erratic in his behaviour by design through the writing, but surely these extra burdens being heaped upon him will have consequences in the future as well.
The cracks make another appearance as Calvierri mentions that she has seen many and even used one to escape from her dying world. Add to that the continuing mentions of the silence and of time being rewritten, and it's clear that events are building up to a momentous climax in the future. It's a bold choice, though one that works exceedingly well, to have what seems to be an isolated story still tie in so directly to the underlying themes of this series, and the continued excellent production values continue to shine as Doctor Who offers yet another entertaining episode.