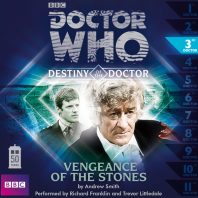 Released March 2013
The Destiny of the Doctor saga skips ahead to the relatively unexplored time period of the Third Doctor era set between Liz Shaw's departure and Jo Grant's arrival for its third monthly release. After an RAF fighter mysteriously disappears from the air during a training exercise over Scotland, Brigadier Lethbridge-Stewart and the Doctor are quickly summoned to investigate. Employing the help of a local military officer, Lieutenant Mike Yates, they soon discover a link to the plentiful recumbent stones circles in the area, and when Yates goes missing, the race is on to save both him and the entire planet from a dark plot for revenge that spans both time and space.
Mike Yates, of course, was one of the few supporting characters to undergo a meaningful arc during his time with the Doctor, going from a loyal member of UNIT and potential love interest to Jo Grant to a traitor and eventually a man seeking redemption. With few members of the Third Doctor era still alive, Yates has continued to gain prominence in the audio medium as the character becomes ever more layered and nuanced, and Richard Franklin has perfected a far more subtle approach to the role than the programme during his tenure afforded him. Filling in the continuity gap of just how Yates came to be involved with UNIT, 'Vengeance of the Stones' shows him as a sensible and forthright character who does not let the alien nature of the threat involving a familiar sight from his childhood overtake and consume him, proving that he is an ideal candidate for the otherworldly threats that would become so common on Earth in the near future.
It's always refreshing when the alien menace of a story is not evil just to be evil, and the fact that these aliens are scientists from a world called Faris who arrived thousands of years ago to look for certain resources that Earth has in abundance but were attacked into hiding by tribal warriors lends needed background to this story of revenge using the stone formations with which they have a natural telepathic affinity. The danger posed also allows the Doctor to reveal just how attached to his adopted planet he has become in a short period of time since his forced regeneration, highlighting his usual chivalry and bravery as he proudly proclaims that he would not leave Earth while it is in danger even if he had the opportunity. Franklin also manages to capture the excitable energy of the Eleventh Doctor during his recorded message, a transgression the Third Doctor is rightly exasperated about but that should play into previous and future requests from his future self as events continue.
'Vengeance of the Stones' may ultimately rely on the trusted tropes of a threat buried deep beneath the Earth's surface and a planet that has long since been destroyed as its denizens arise once more, but it's yet another incredibly effective snapshot of a particular Doctor's era in this range, exploiting the rural setting to great effect as the familiar UNIT team begins to come together. Nonetheless, in a series progressing through the Doctor's personal timeline with moments of the future bleeding through where trust is implicitly needed, that familiarity is a necessity and a positive attribute, and the atmosphere and sound certainly help the performances and script achieve that feat with resounding success.