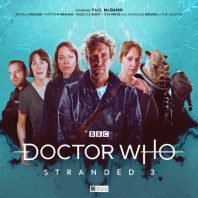 Released December 2021
SOME SPOILERS FOLLOW
With the fate of humanity at stake and the Doctor and his companions still attempting to uncover and pinpoint the cause, John Dorney closes out Stranded 3 with 'What Just Happened?' and an experimental tale of consequences and perceptions told in reverse chronology.
In theory, telling a story from its denouement to its exposition allows for an intriguing exploration of the consequences that each series of choices has by allowing the audience to already know how events will unfold when a person acts in a certain way. It also allows for a certain narrative shortcut since actions that characters take towards the story's chronological end no longer need explanation as the story progresses backwards, helping to create an unstated nuance to certain individuals that the listeners typically know better than the other characters. To an extent, that does hold true in 'What Just Happened?' but the entire story is hampered somewhat by the early reveal that Robin is responsible for all of the recent atrocities the Doctor has witnessed across time and space. Conceptually, there's nothing wrong with Robin being the inadvertent villain who believes that he is saving humanity through force rather than leaving them to struggle alone as he has witnessed the Doctor do. In fact, something similar with a companion taking the Doctor's name and failing to live up to his mantra has previously been done by Big Finish with Thomas Brewster. However, with Robin there has never really been enough development of the character besides feeling somewhat isolated and unloved to warrant such a dramatic change stemming from a bootstrap paradox, even given his own experiences and how he was physically and emotionally affected while traveling with the Doctor. Since Robin has not featured in this set to this point, it's quite easy to forget about his own journey and what sort of inner turmoil he must have endured for so many years, but Joel James Davison and the writing can't quite reach into the required depths to adequately convey that turmoil or the resulting power that Robin has attained with control over a literal kill switch that can end all of humanity on a whim. The final flashback scene does try to add further context to his cowardly use of the switch that brings about the desolated Earth the Doctor has seen by highlighting Robin's love for video games because a player can always start fresh if he or she loses, but even the monumental emotions that the kill switch should have brought out are rushed and extremely underplayed, giving little for the remainder of the story to build to as events leading up to that moment unfold.
It's not quite clear if this entire set is a sort of potential future that can be avoided completely as in 'Snow' or if this extinction and desolation are a certainty, and so it's difficult to know what trajectory the concluding Stranded 4 will take to resolve these threads. Nonetheless, despite its many shortcomings with building up and maximizing its villain, 'What Just Happened?' does make the most of its unique format to retain interest at all points as the decisions that have led to the already-shown outcomes are revealed. While Tania is sidelined due to her fate in the previous story, the remainder of the core cast gives strong performances that exemplify the uncertainty of the present as the mystery of the enigmatic Doctor develops and the ordained fate of humanity approaches. Paul McGann, in particular, excels both in the larger and smaller moments, and the Doctor's conversations with Robin imbue a degree of humanity to proceedings that is much needed as tensions and fears continue to rise. With Andy's fate uncertain after heroic and well-meaning acts from everyone, there are plenty of threads for the final set of stories to expand upon and develop. Unfortunately, despite the unique strengths that the chosen storytelling modality here allow and the redefining of previous tales that results, 'What Just Happened?' as a whole is a strictly average story that relies on its unexpected villain far more than the writing or acting allow given how long he has been out of the spotlight.