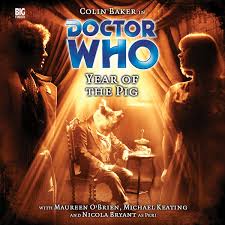 Released December 2006
'Year of the Pig' is a very atypical Doctor Who release, one in which the cover brazenly displays the basic premise of the Doctor meeting an intelligent and cultured pig, but the end result- for those who will give it a chance and are willing to listen to its characters and their dialogue rather than be bombarded with ostentatious action sequences- is a uniquely satisfying one in its own right.
As the Sixth Doctor and Peri arrive to relax at a Belgian resort in 1913, they unwittingly draw the attention of several other visitors to the area, notably the titular pig Toby with his telescope in his hotel room who is sure somebody is there to kill him. The plot takes its time getting where it wants to, but that's not meant to be taken as a criticism. It simply has a very relaxed demeanour about it, allowing events to unfold at a more causal pace and for its characters to have very thorough conversations. With Toby being an exaggerated extreme of the intelligent pigs that used to travel around in carnival acts of the time and the 'Year of the Pig' unafraid to have discussions about the culture at the time, the historical aspect is quite important to the plot as well.
Unsurprisingly, though, this is a story very much dedicated to Toby the Sapient Pig, and Paul Brooke deserves ample credit for delivering a measured performance to fully show the innate classiness and refinedness of the character, one who cannot remember his childhood but is unashamed of his past in the freak show that allowed him to retire into the lavish lifestyle he now enjoys. Likewise, Colin Baker offers another astounding performance as the Sixth Doctor, instantly forming a rapport with Toby when his holiday is interrupted by needing to save a drowning man. Mercifully, the Doctor stays true to character and treats Toby as any other individual who asks him for help, and no sense of parody really ever creeps into the story that is quite inherently bizarre despite its strong dramatic core.
Peri is sidelined a bit more than usual given the heavy focus on the Doctor and Toby, but the script still affords her the very important role of questioning each of the secondary characters separately in order to gain valuable information. Arguably the most important of the supporting characters in this release is Michael Keating's bombastic Parisian Inspector Chardalot, a man determined to capture his prey for his own means that take precedence in the story's conclusion. The most pleasing casting move for long-time fans, though, is Maureen O'Brien returning to Doctor Who in a role other than her famous companion Vicki, playing Miss Bultitude as a scatter-brained aristocrat determined to meet Toby out of pure respect for his work and accomplishments. Adjoa Andoh also gives a sublime performance as Toby's caretaker Nurse Albertine, someone fully dedicated to protecting Toby even as she wishes she could see more of the world.
There is some interesting science that gets woven into the story as events progress, but otherwise 'Year of the Pig' could be considered a straight historical even with Toby a main focus. The script is never played for laughs, and the discussions had along with the mannerisms and phrases used would fit perfectly within the time period. That type of setup, along with the slower-paced and dialogue-driven events, may be a deterrent for some, but 'Year of the Pig' truly is something layered and complex that delivers a delightfully satisfying experience for those who choose to go in with an open mind.